Jump to Recipe
If you have one of those kitchen torches buried in the bottom of your drawer, now is the time to use it! This apple pie brûlée oatmeal has all the flavors of Fall in a delicious oatmeal, finished with a caramelized, crunchy top. That topping is everything!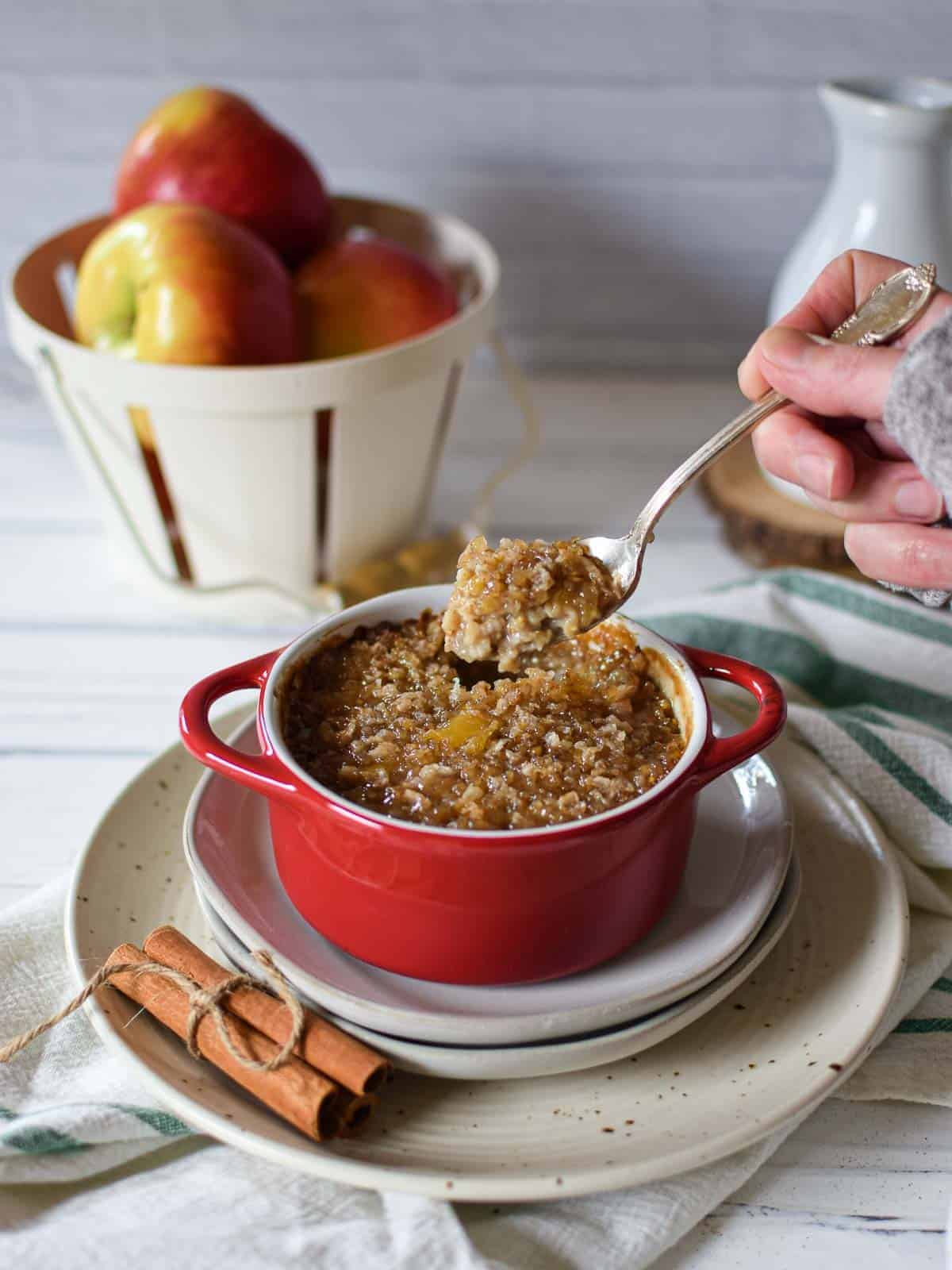 This was one of those recipes that I just stumbled upon after an apple-picking extravaganza one day. I had made some applesauce, and to use it up, I tossed it into my favorite oatmeal- steel-cut oats. It was so easy and turned everyday oatmeal into a treat. Then I thought, why not add a crunchy top? I will admit, I dusted off my kitchen torch too- an impulse buy after I thought I would be churning out creme brûlée every week. Who knew you can brûlée breakfast too? Don't have a torch? No problem. To make this apple pie brûlée oatmeal, just use your broiler to caramelize the crunchy top. You can use store-bought applesauce, or make your own. Either way, this will remind you of apple pie on a crisp Fall day.
Can I make my own applesauce?
Absolutely! I've made it with my own applesauce and store bought, and it's delicious either way. You can use your favorite applesauce recipe, or follow these simple steps.
Cut and core 2 medium apples (I like honeycrisp)
Add to a medium pot with 1 tablespoon of water
Cook on medium for 5-7 minutes until soft
Mash with a fork until desired consistency
What if I don't have a kitchen torch?
No worries! You can make this using your oven's broiler. The recipe walks you through how to use your broiler to caramelize the top. If you have a kitchen torch, then go ahead and use it. Follow the safety instructions for your model, and sweep the flame over the sugared top until brown and hardened.
📖Recipe
Apple Pie Brûlée Oatmeal
Crunchy, sweet, and warmly spiced apple pie brûlée oatmeal will remind you of your favorite seasonal apple pie. The topping is everything!
Ingredients
3

cups

water

1

cup

milk

of your choice

¼

teaspoon

salt

1

cup

steel cut oats

1

cup

chunky applesauce

¼

teaspoon

cinnamon

¼

teaspoon

allspice

2

teaspoon

brown sugar

4

tablespoon

granulated sugar
Instructions
In a large pot, add the water, milk and salt. Bring to a boil (watch closely as it will foam and rise to the top rapidly as soon as it boils). Add the oats.

Remove the cover. Simmer on low heat for about 25-35 minutes, stirring occasionally.

After the oatmeal finishes cooking, add the applesauce, cinnamon, allspice and brown sugar, stirring until incorporated. Remove from the heat and divide among 4 broiler safe bowls.

Add 1tbsp of the granulated sugar to the top of each bowl. Broil on high for 5-8 minutes until the top is brown and crunchy. Alternately, you can use a kitchen torch to caramelize the sugar topping. Serve immediately.
Notes
If you don't have individual broiler safe bowls, add to a broiler safe pan and continue with the remaining steps; this time adding all the sugar to the top and then proceed with broiling the top.
Leftovers can be stored in the fridge for up to 5 days without the added sugar. When ready to broil, remove from the fridge, add the sugar and proceed with broiling.
Have you tried this recipe?
Leave a comment below and share a photo on Instagram. Tag @brunchandbatter or hashtag it with #brunchandbatter