Oh hey there! I'm Jennifer, the recipe developer, blogger, and food photographer behind Brunch and Batter. I've been a seasoned home cook (and nurse) for over 25 years, specializing in unique breakfast recipes, updated lunch classics, and simple, no-fuss desserts. I'm so glad you found me!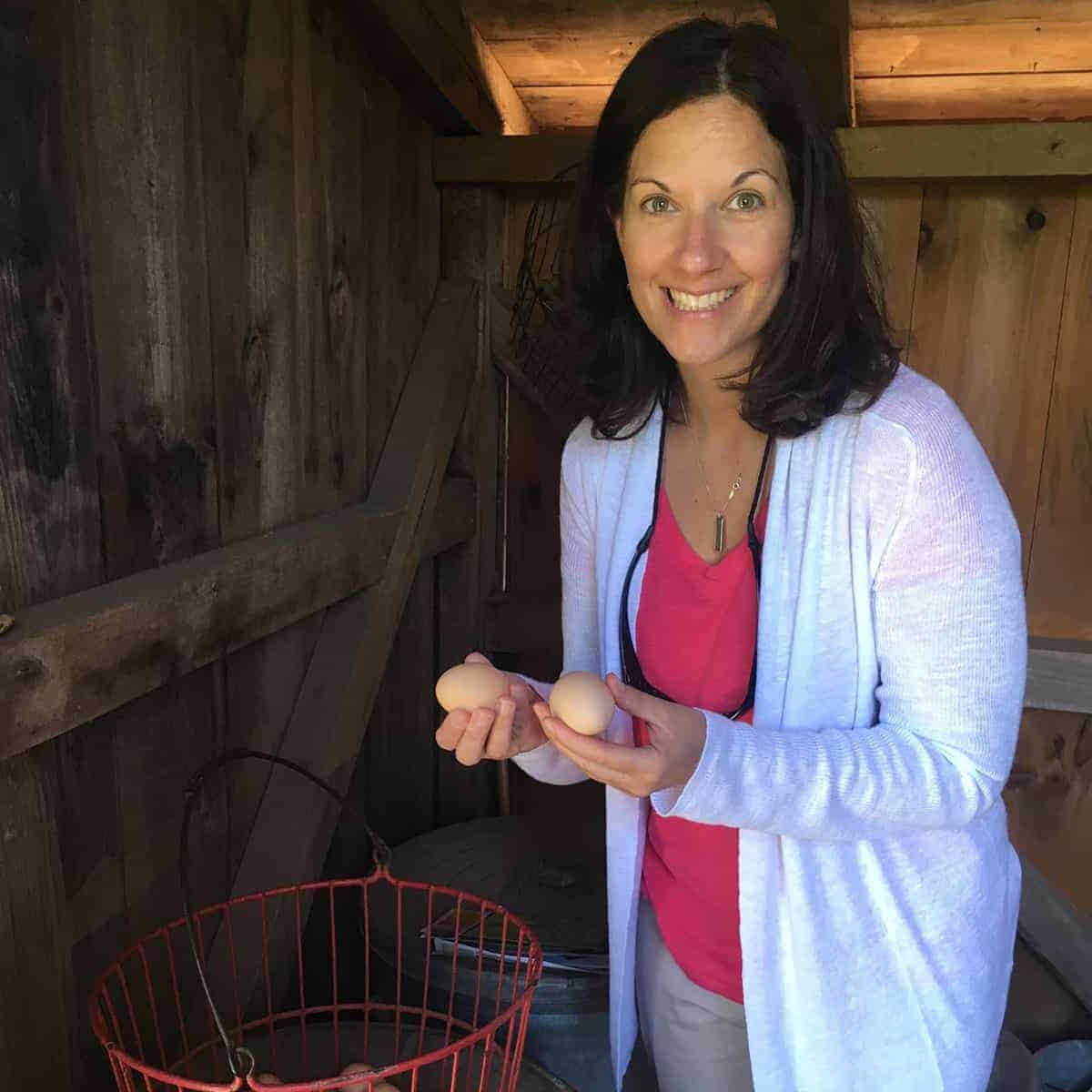 Jennifer's story
For as long as I can remember, I have always had a love of food. Growing up in an Italian-American home, there were endless Sundays of pasta, meatballs, eggplant, and dessert. I was always surrounded by food, but it was the memories made in the kitchen with my family that were the real joy.
My uncles owned numerous restaurants throughout the years- a pizza stand, a gourmet Italian deli, and a homestyle Italian restaurant, right here in my home state of New Jersey. Before it closed its' doors in 2016, my famous Italian pignoli cookies were featured on the menu of Gaetano's restaurant in Red Bank, New Jersey! I mean how cool is that?
So why brunch?
As I got older, I discovered a crazy little ritual called brunch. A far cry from the traditional Italian Sunday dinners I was used to. All of a sudden I was scheduling "brunch dates" with friends, and I couldn't get enough. I wanted to recreate some of those beloved dishes right here in my own home.
In 2018, I decided to start Brunch and Batter blog, with the intent to archive my recipes so I could share them with friends and family.
A few years later, in 2020, after a long, and difficult year of working as an ICU nurse during the pandemic, Brunch and Batter became a much-needed creative outlet for me. In addition, I picked up a camera for the very first time and started photographing all my recipes. Before I knew it, I was knee-deep in a new hobby and I absolutely loved it.
Fast forward to today, I am still working in that same ICU, but I spend most of my time developing new recipes and working on my food photography. Rest assured, if I can teach patients how to manage complex medical conditions, I can teach you how to make a pancake!
And if you need more proof, my recipes have been featured on MSN, Trivet, and numerous other food and lifestyle websites. If you love my food photography and want to see more, check out my work with me page.
What you will find on Brunch and Batter
At Brunch and Batter, our mission is to provide easy-to-follow recipes for novice and experienced home cooks using fresh seasonal ingredients. Here is a glimpse of what Brunch and Batter has to offer:
Each recipe is triple-tested (at minimum) for taste, accuracy, and ease. We provide step-by-step instructions, as well as expert tips and tricks to ensure your recipes are brunch-worthy.
Let's connect!
I love to hear from my readers! Feel free to leave a comment or question at the end of the recipe card. You can also email me at brunchandbatter[at]gmail[dot]com or reach out on Instagram, Facebook, Pinterest, and TikTok.
And don't forget to subscribe to our newsletter, so you never miss out on a recipe.
I'm so excited you are here, and can't wait to share my recipes with you!
FAQ
How did you come up with the name Brunch and Batter?
Many, many years ago, I created a binder of all my typed-up recipes. I named that binder "Jennifer's Baking Recipes (and brunch too)". Brunch and Batter pays homage to my early recipe roots. The batter refers to the dessert part, while the "brunch"... well you get the idea.
Do you have any formal culinary training?
As a seasoned home cook, I do not have any formal training. I have taken countless recreational cooking classes over the years and I love to read all my cookbooks like novels. All my experience comes from trial and error and learning from the best cooks in my family.
I love your photography. Can you tell me more about that?
In 2020, I taught myself food photography, and it turns out I love it just as much as I love cooking. I took a few online classes to refine my editing skills, but I am 100% self-taught (thank you internet). Currently, I shoot with a Nikon 3300, alternating between a 60mm macro lens and a 35mm prime lens. I shoot in natural light in my kitchen and my photos are edited in Adobe Lightroom.
Do you provide nutritional information for your recipes?
As a courtesy to our readers, nutritional information is provided for most of our recipes using Verywell Fit Nutrition Calculator and is an estimate only. Keep in mind that nutrition information can vary for a recipe based on many different factors such as products used, measurements, and substitutions. We encourage readers to make their calculations based on the actual ingredients used in your recipe, using your preferred nutrition calculator.
What do you do for fun?
When I'm not covered in flour, you can find me "trying" to complete a crossword puzzle, watching 80's and 90's sitcoms, grazing a farmer's market, traveling, and spending time with my wonderful husband Gabe (and certified taste tester) of 12 years.