These parmesan chili crisp fried eggs are a little spicy, a little cheesy, and oh so crunchy. With just four ingredients, you won't believe how easy it is to transform your morning egg routine into a gourmet meal.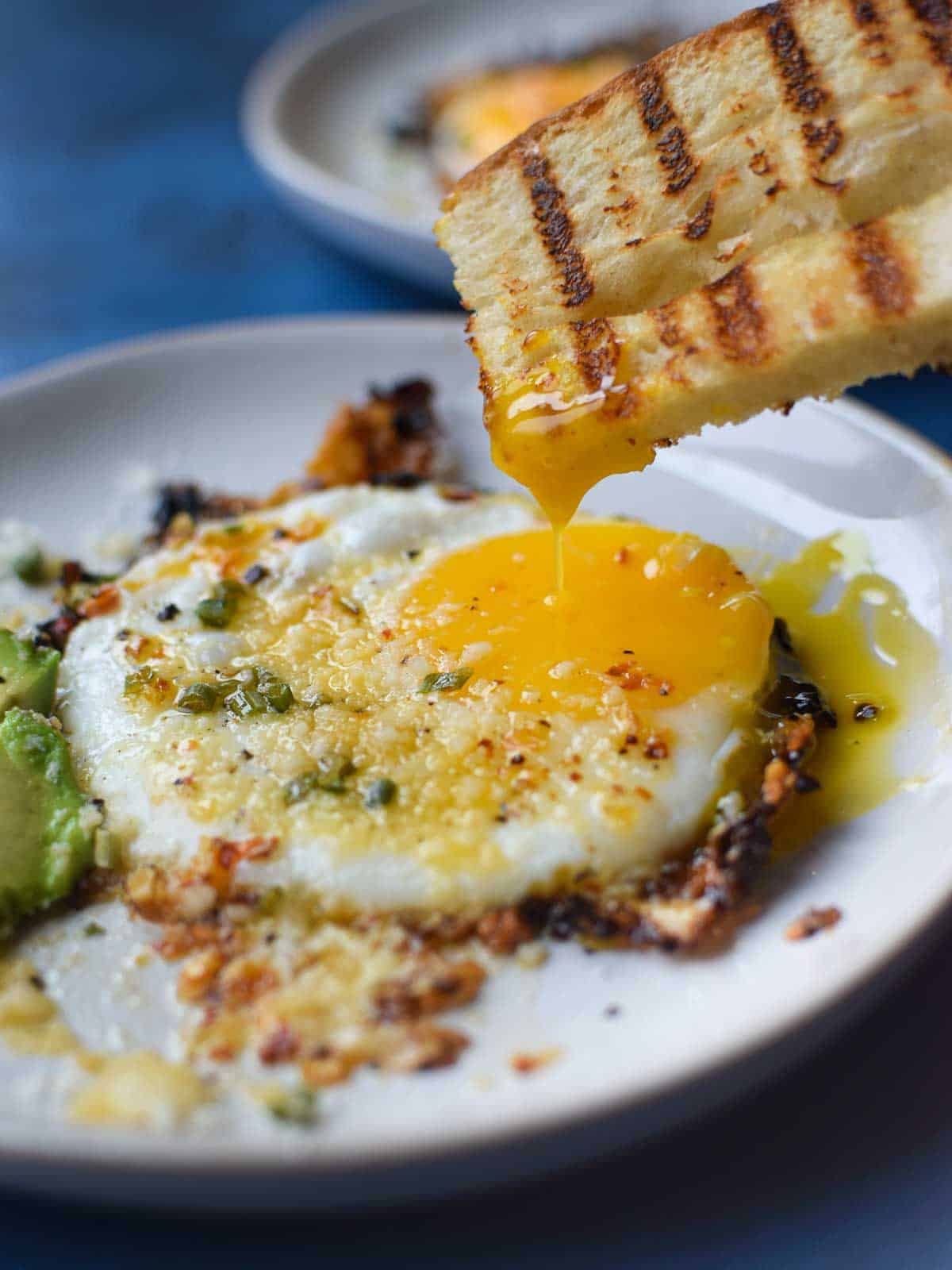 When I'm in the mood for eggs, I usually reach for my go-to scrambled eggs. That being said, I'm not parting with my scramblies (made up word alert) any time soon, but fried eggs in a lacy, crunchy swirl of parmesan with a kick of heat are my new love language!
Jump to:
What is Chili Crisp?
Thanks to TikTok, chili crisp or crunch (as marketed by some brands), has blown up over the last few years. The spicy condiment, originating in Chinese cuisine is sold in stores and online and features a mix of chilies, oil, and other aromatics such as garlic and onion, that get fried to give it its signature crunch. The condiment is delicious on just about anything.
I love the Chili Onion Crunch from Trader Joe's. It's not too spicy and has less liquid than other brands. Other popular options are this one from well-known chef David Chang and the Momofuku franchise or the OG chili crisp by Lao Gan Ma. Whichever you choose, the ingredients and spice level will vary from brand to brand.
Ingredients
The best part of this recipe? It only uses 4 ingredients! Once you get your hands on chili crisp, the rest are pantry staples, making these eggs a breeze to whip up.
Eggs: Any size eggs will do.
Chili crisp/crunch: The star of the show. Sold in stores and online.
Oil: I used olive oil, but any neutral oil with a high smoke point will work (canola, avocado).
Parmesan cheese: Freshly grated is best.
Crusty bread for serving: You need something to sop up that yummy, runny yolk!
See recipe card for quantities.
Instructions
Never made fried eggs before? No worries, this step-by-step guide will make it a breeze!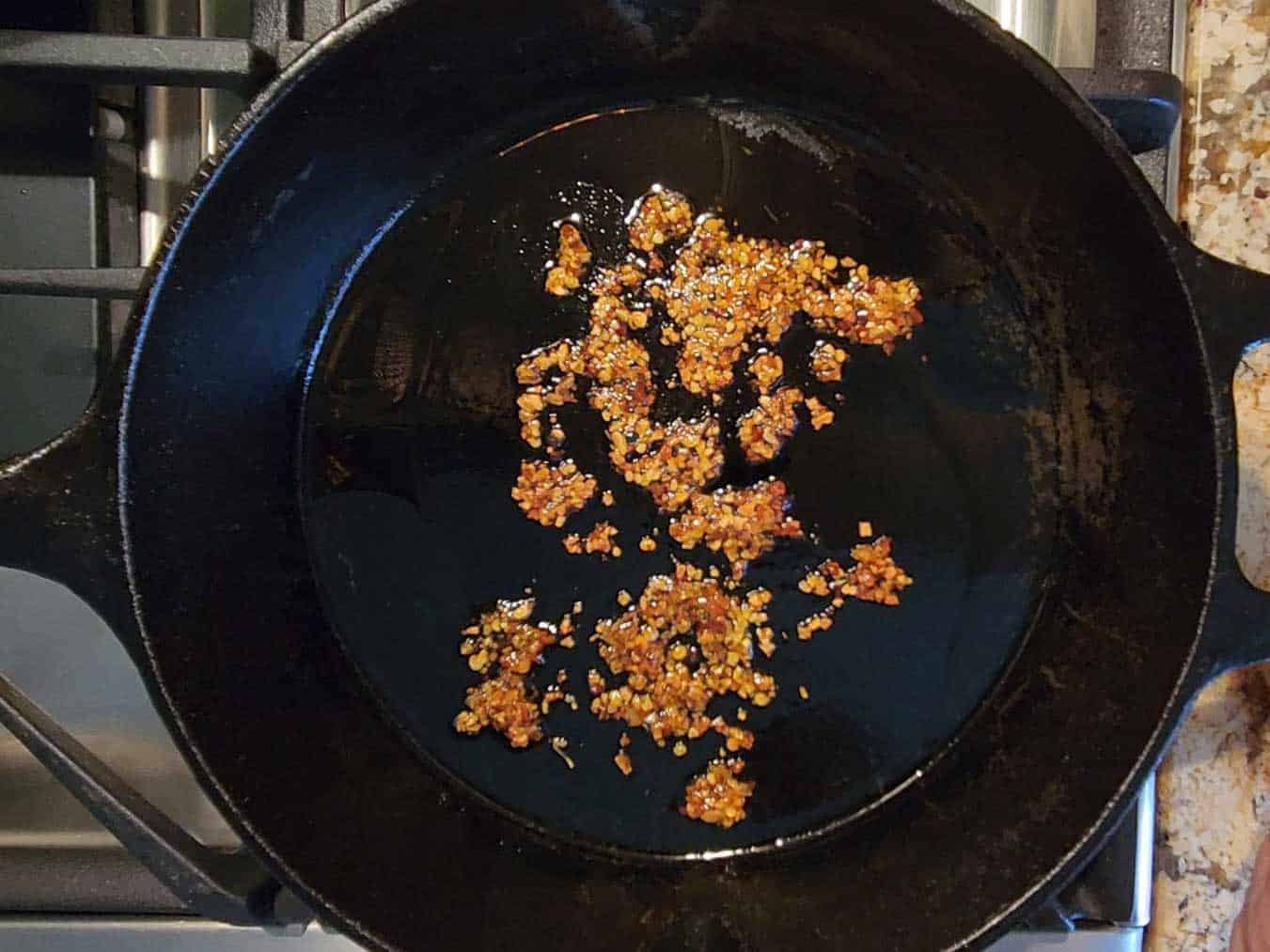 In an 8" or 10" skillet, heat the oil over medium heat. Add the chili crisp and spread to cover the pan.
Sprinkle the parmesan cheese over the chili crisp. Try to spread it evenly over the crisp.
Drop the eggs, one at a time into the oil. They will immediately start to sizzle.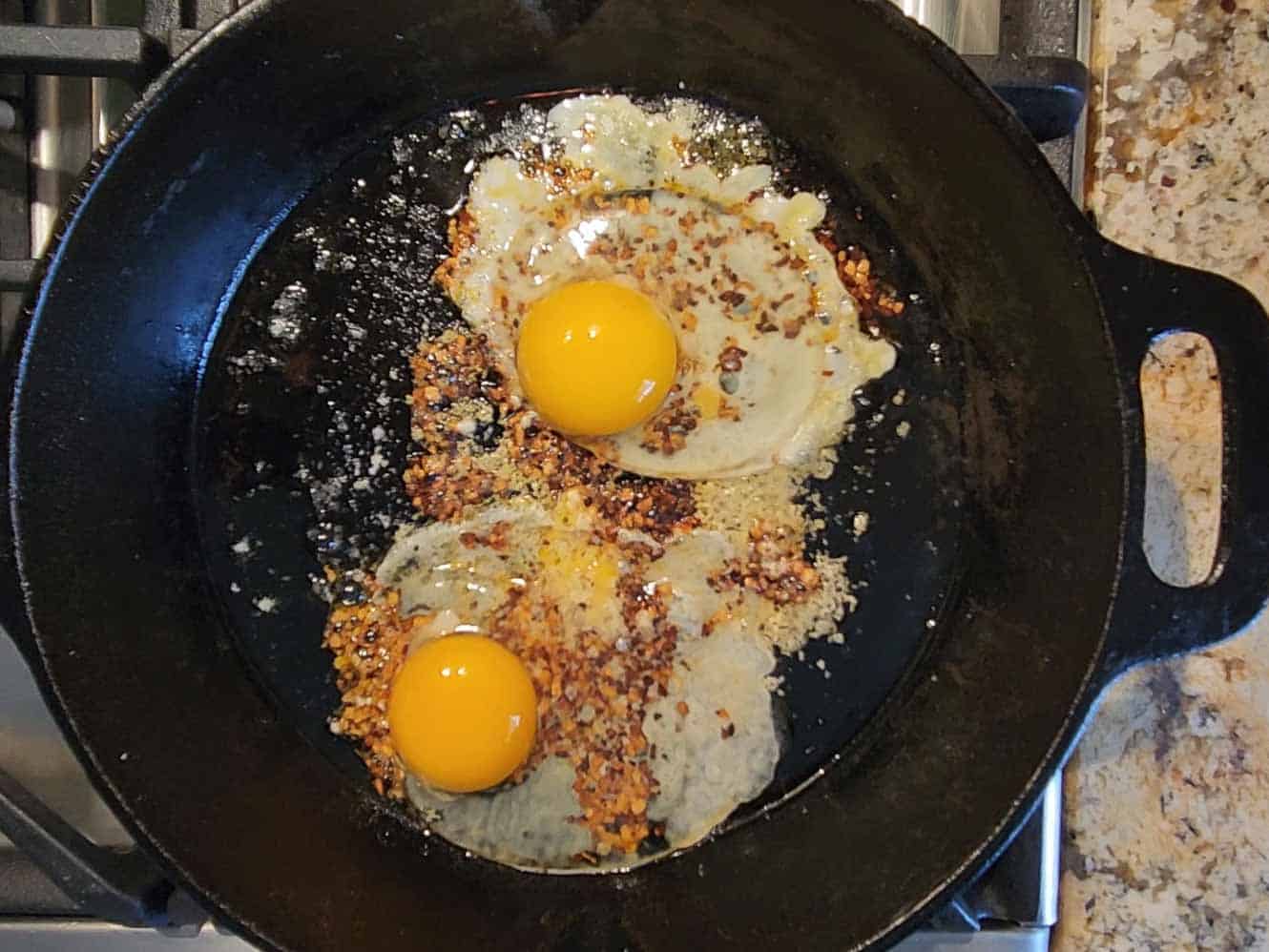 Cook for 5-7 minutes, untouched, depending on how cooked you want the yolks.
Hint: If you don't like runny yolks (sunny side up), then you can cover the eggs to help the yolks set. Alternatively, you can flip the egg, to completely set the yolks.
Additional Toppings
Feel free to jazz up these fried eggs even more by adding these flavor showstoppers.
Fresh herbs: Parsley or cilantro are great for freshness, while chives or scallions add to the oniony flavor. Plus the pop of green will take this dish to fancy land!
Sesame seeds: Sprinkle some sesame seeds (toasted or not) right on top just before serving for an added crunch.
Flaky sea salt: Since this dish is all about the crunch, instead of adding additional salt to your eggs, try some flaky sea salt for even more texture.
More chili crisp: Don't let the crispy bits left in the skillet go to waste. Drizzle the remaining oil and chili crisp on top of the eggs.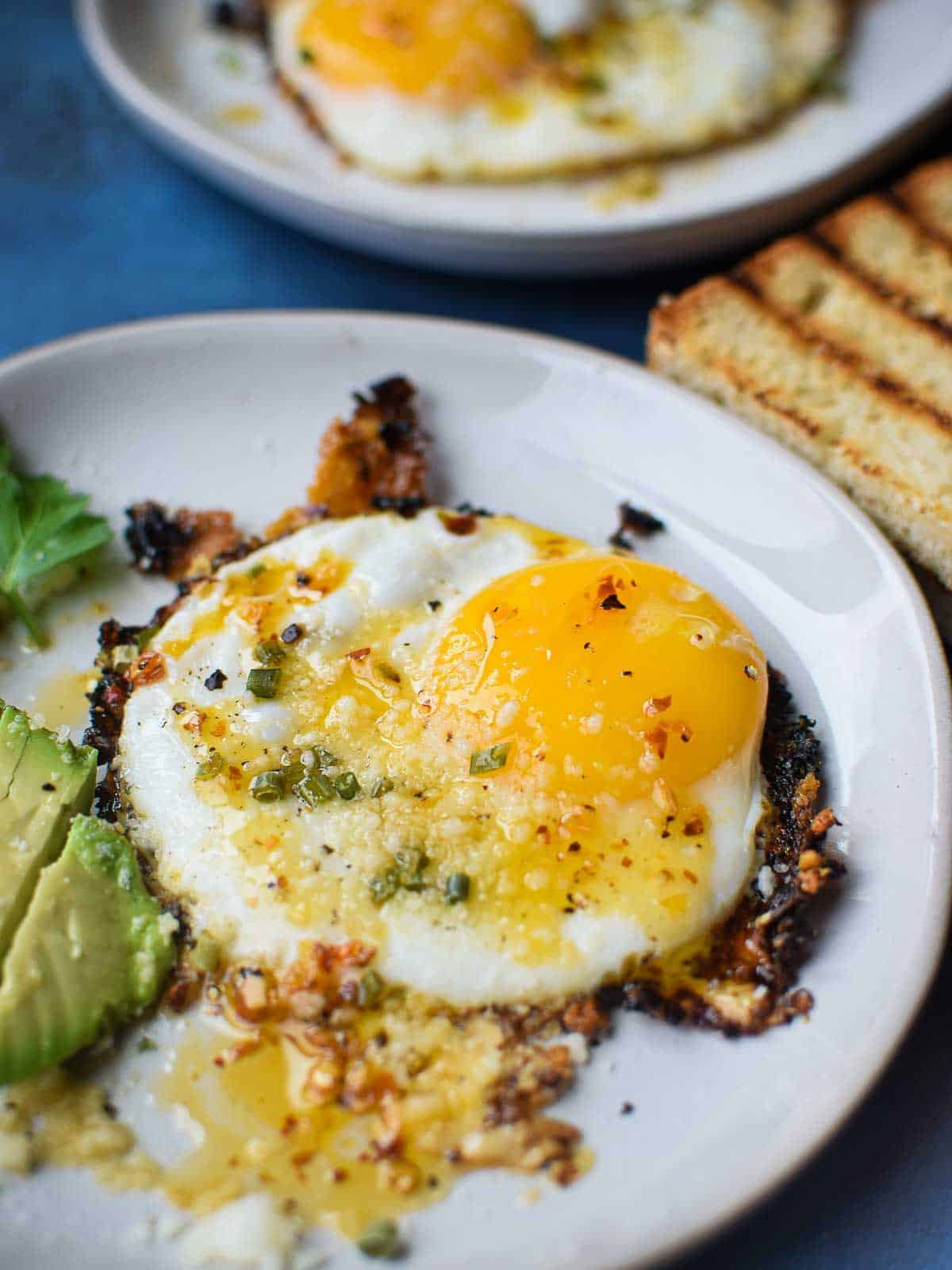 How to serve fried eggs
Looking for new ways to serve your parmesan chili crisp fried eggs? There are countless ways to enjoy your new fried friend. They make a great breakfast, lunch, or dinner.
Add to grits, just like I did here.
Put them on top of pizza.
Layer it inside your favorite burger.
Make a tasty breakfast sandwich with bacon or sausage.
Make a fancy breakfast toast.
Try it on top of your favorite salad.
Top your noodles.
Over breakfast potatoes or hash browns.
Equipment
All you need is a frying pan large enough to hold the eggs.
Storage
Fried eggs are best eaten right away, however, they can be stored in the refrigerator and reheated. You can gently reheat them in the microwave for 15-30 seconds or lightly pan-fry them again on the stove. For safety, the internal temperature of the egg should reach 165 degrees F.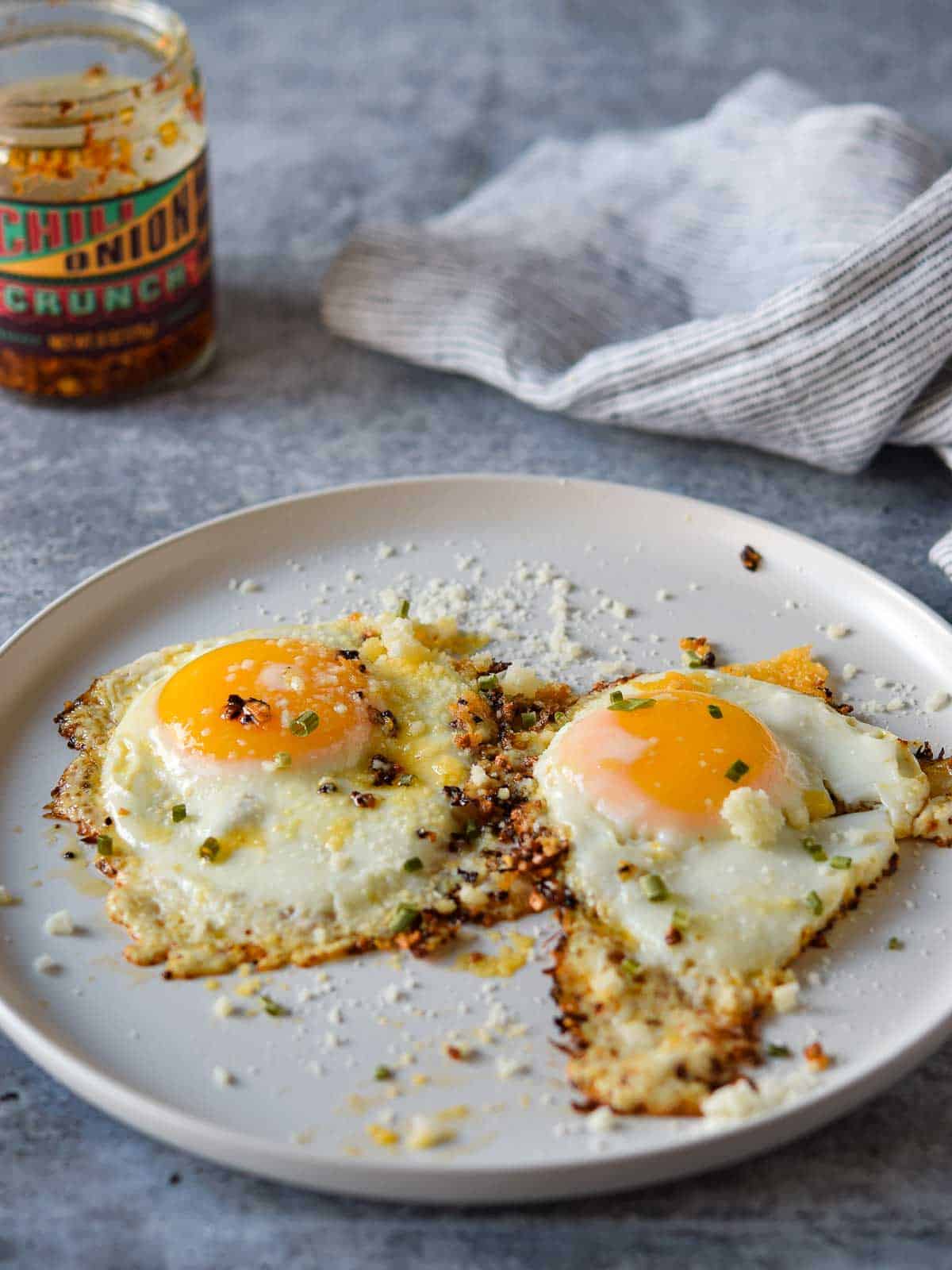 Top Tip
Use a small bowl to crack the egg into, then pour the egg into the hot frying pan. This allows you to check for any shells, and you will have better control of the liquid as it pours into the pan.
FAQ
Is chili crisp very spicy?
This will vary depending on the brand, however it is not as spicy as it's name appears. You can adjust the amount in any recipe to lessen heat if desired.
Is chili oil and chili crisp the same?
Chili oil is made with crushed chilies and oil but lacks the crunchy aromatics that are found in chili crisp.
📖Recipe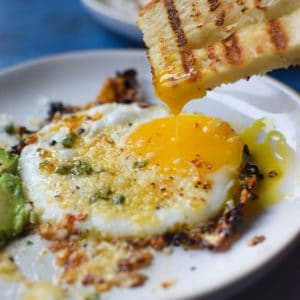 Parmesan Chili Crisp Fried Eggs
These parmesan chili crisp fried eggs are a little spicy, a little cheesy, and oh so crunchy. With just 4 ingredients, you won't believe how easy it is to transform your morning egg routine!
Equipment
8'' or 10' skillet or frying pan
Ingredients
2

eggs

any size

1

tablespoon

oil for frying

olive, canola

2

teaspoon

chili crisp, plus more for drizzling on top

1

tablespoon

parmesan cheese, grated, plus more for garnishing

salt and pepper to taste

fresh herbs for garnishing

green onions, parsley, cilantro

crusty bread or toast for serving
Instructions
Get the eggs ready. Crack each egg into 2 separate small bowls. This will give you better control of the egg as it slides into the pan. Set aside.

Heat the oil in an 8" or 10" skillet over medium heat. Add the chili crisp and spread to evenly distribute.

Next, add the parmesan on top of the chili crisp, and spread to evenly coat. It will sizzle. Immediately add the eggs, one at a time on top of the chili crisp and parmesan. Cook, untouched for 5-7 minutes until the desired doneness, adjusting the heat as needed. You can cover the pan if you want the yolks to be less runny.

Remove from the pan and serve immediately. Garnish with fresh herbs, chili crisp, and additional parmesan on top. Serve with toast or crusty bread.
Nutrition
Serving:
2
eggs
Calories:
349
kcal
Carbohydrates:
4.3
g
Protein:
17.1
g
Fat:
32
g
Saturated Fat:
7.6
g
Cholesterol:
382
mg
Sodium:
352
mg
Potassium:
134
mg
Sugar:
1.8
g
Calcium:
180
mg
Iron:
2
mg
Have you tried this recipe?
Leave a comment below and share a photo on Instagram. Tag @brunchandbatter or hashtag it with #brunchandbatter