Jump to Recipe
Banana splits for breakfast? Yes, please! This super easy brûlée banana split with yogurt is a childhood dream and uses healthy Greek yogurt instead of ice cream. Caramelizing the bananas adds a special fancy crunch.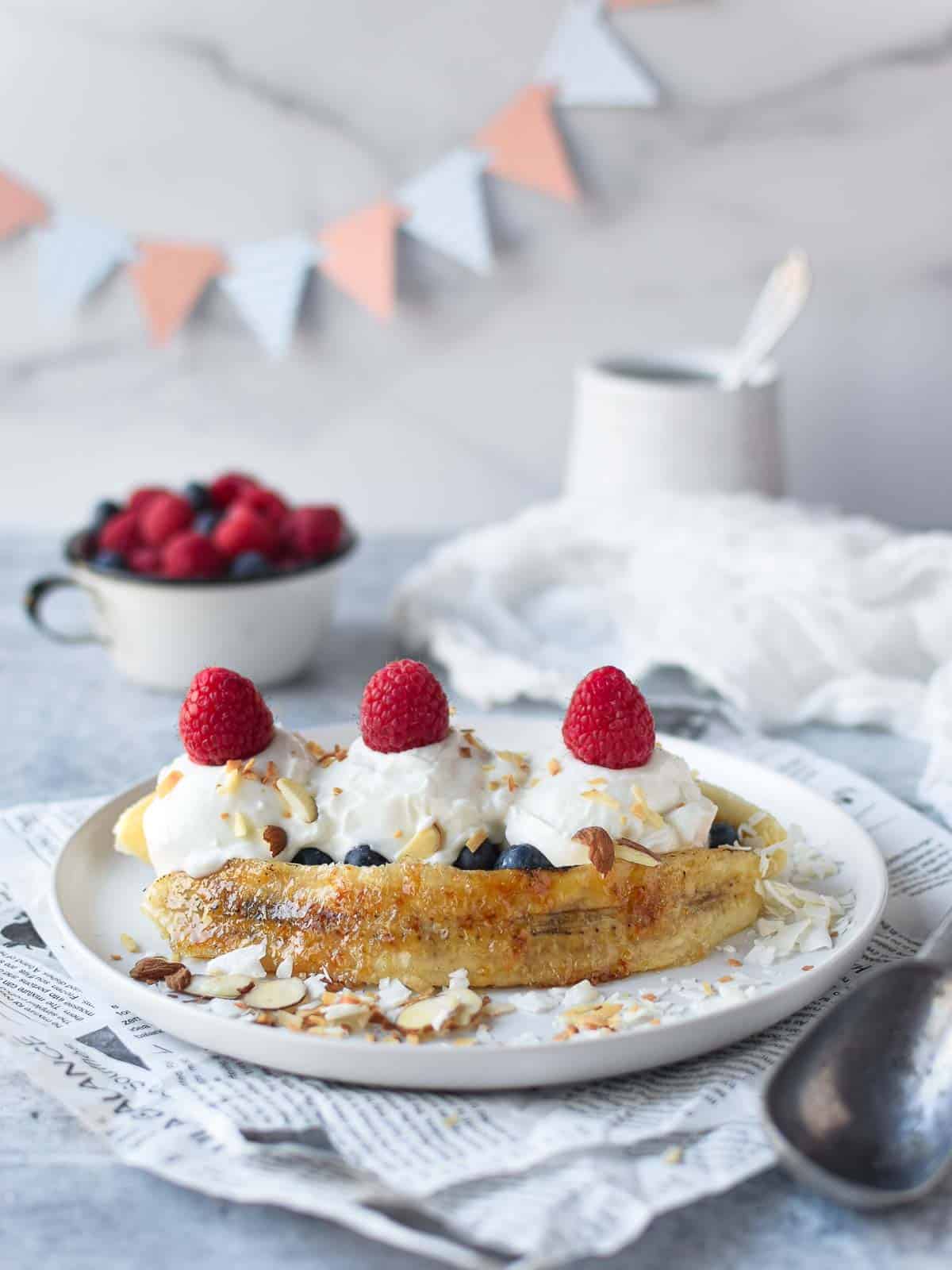 Who says healthy can't be fun? Ok- the sugared banana brûlée part makes this slightly more indulgent. I hear you, but you could always skip that step. But why would you? Unless you hate sweet, caramelized, crunchy bits of heaven that is.
I'm no stranger to my brûlée torch. I just love torching my breakfasts as I did with this oatmeal or this easy vanilla yogurt brûlée. It just adds that extra special touch to just about anything.
What is brûlée?
The literal definition of brûlée means "burnt" or "burned". When it comes to food, brûlée refers to a hardened crunchy topping made from caramelized sugar. So basically these bananas are "burnt" bananas but in a yummy, good way!
Why you will love this breakfast banana split
It's fun and easy to make
The kids will love it
You can customize it however you want
You can mix up the flavors and toppings
It's healthy and indulgent all at once
You can adapt it to any diet- vegan, gluten free etc.
Ingredients
The best thing about this recipe is that measuring out the ingredients is optional. Think of the bananas as a blank canvas and you are Picasso!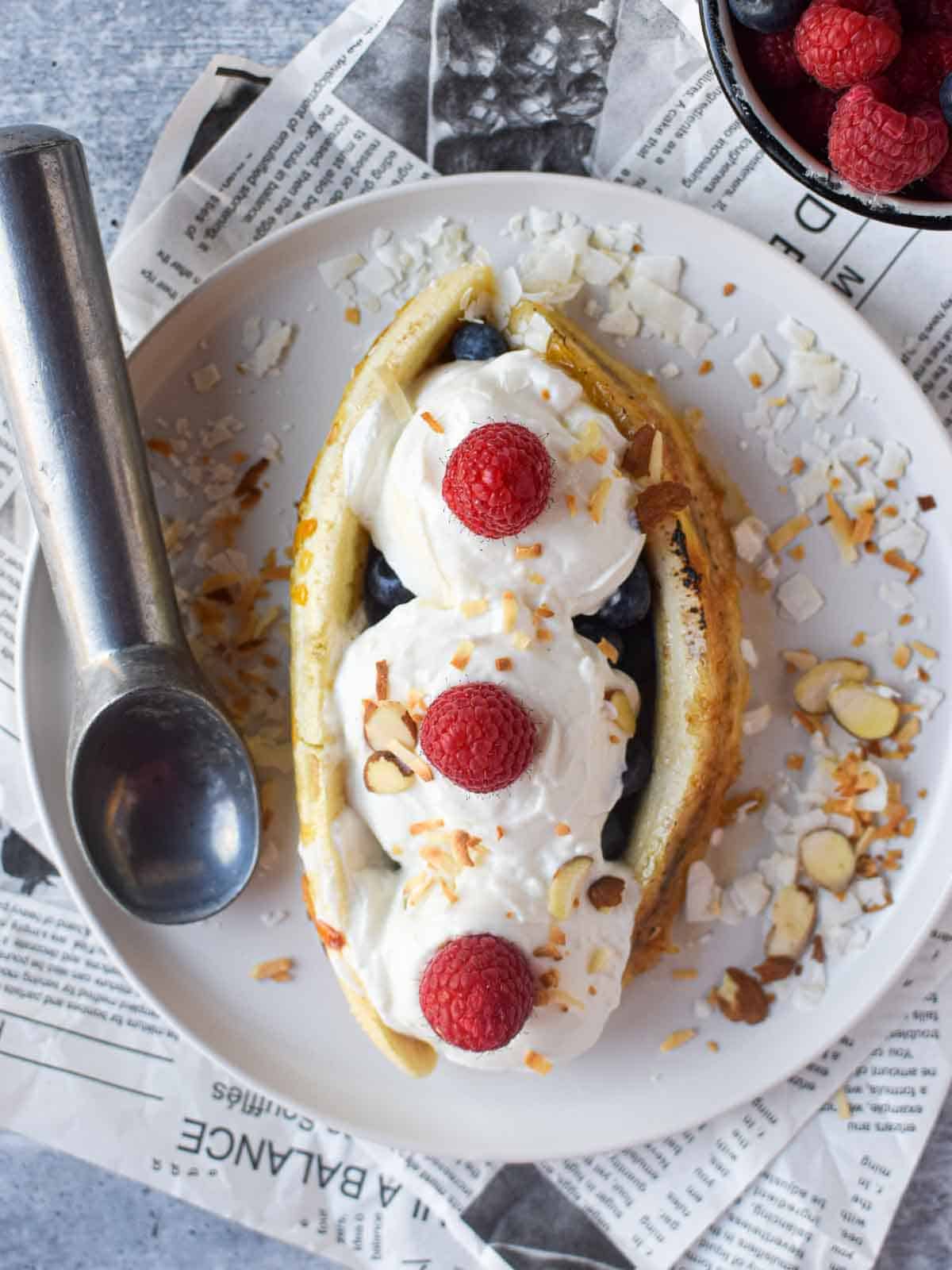 Bananas: The star of the show. The bananas should be ripe, but not over-ripe. You want them to hold their shape after you caramelize them.
Sugar: You will need white granulated sugar for making the banana brûlée.
Yogurt: I used Greek yogurt, but you can use any kind of yogurt and flavor you like. Non-dairy options will also work.
Sweetener: You can use any sweetener you like. Maple syrup, date syrup, or even a drizzle of your favorite jam.
Toppings: Ok, anything goes here. Think of textures like granola, nuts, coconut flakes, chocolate chips, chia seeds, and fresh or dried fruit. The possibilities are endless!
See recipe card for quantities.
How to caramelize (brûlée) the bananas
Caramelizing the bananas is pretty easy. Start with semi-ripe bananas. You don't want them overripe like you would for banana bread. You want the bananas to hold their shape.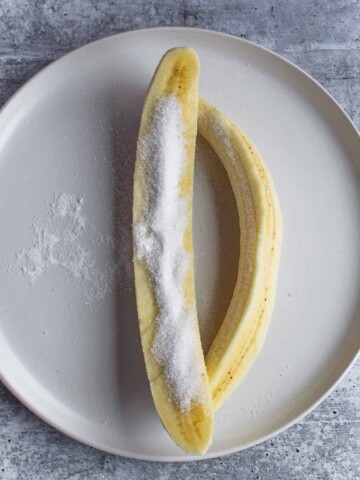 Slice the bananas in half length wise. Spoon the sugar over one side of the banana. Have ready a culinary torch.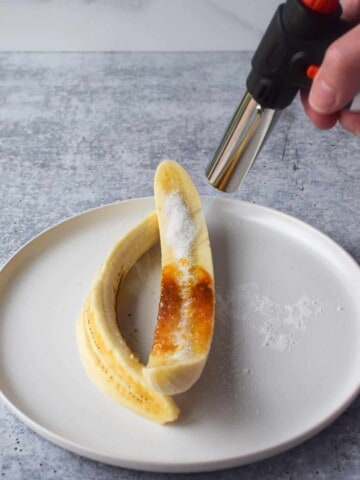 Using your culinary torch, sweep the flame over the sugared bananas until it begins to form a golden brown crust.
Allow the bananas to come to room temperature for a few minutes before adding the yogurt and toppings. That's it!
Variations
Here are some great ideas for maximizing your breakfast banana split with yogurt.
Make it a dessert: You can always brûlée the bananas and make yourself a good old-fashioned banana split with ice cream. Add all your favorite ice cream toppings.
Add more than one flavor: Do you remember those Neapolitan ice creams with the 3 different flavors? Try adding 3 different yogurt flavors- chocolate, vanilla, and strawberry would be amazing!
Kid friendly- Want to get the kids involved? Why not have them add their favorite cereal to the top? Fruit Loop banana splits anyone? And no-one says you can't add some sprinkles or a bright red cherry on top!
On-the go: Want to show off at the office? Turn it into a portable parfait! Brûlée the bananas, add to a mason jar or lidded container, and alternate layers of yogurt and the brûléed bananas along with your favorite toppings. Serious jar envy!
Peanut butter: Try making a peanut butter drizzle. Melt some peanut butter in the microwave for a few seconds and pour some over the top.
See this parfait for ideas.
Equipment
You will need a culinary torch (sometimes called a kitchen or butane torch) for this recipe. I love this one on Amazon. Be sure to follow all the manufacturer's directions when using a culinary torch-you don't need any singed eyebrows!
Storage
You will want to assemble these when ready to eat, they do not store well. You could however, brûlée the bananas up to 2-3 hours in advance if you are making them for a crowd, and then add the toppings right before serving.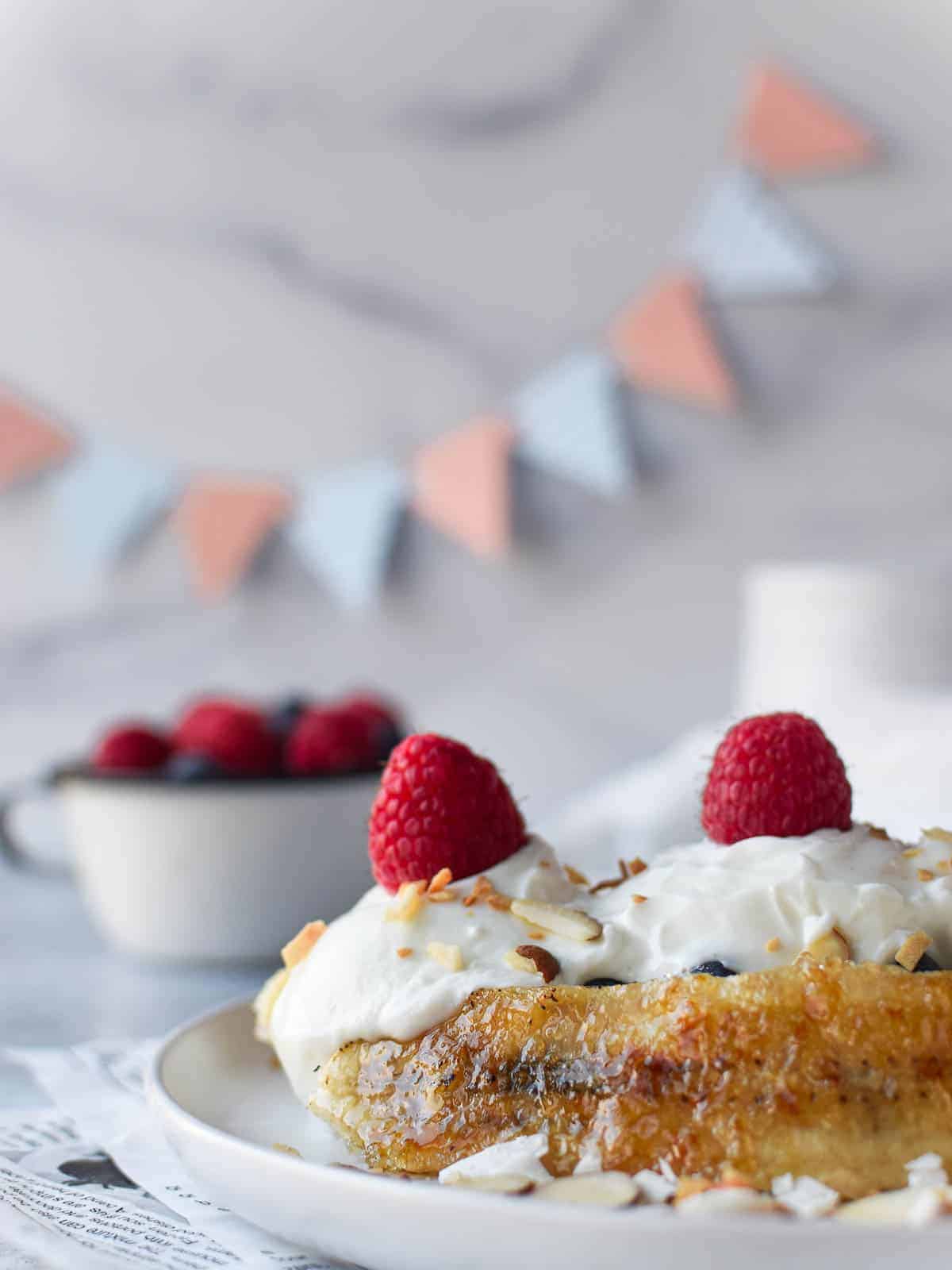 Top Tip
Allow the bananas to come to room temperature before placing the yogurt on top. If you skip this step, the heat from the hot sugar will melt the yogurt and become a bit a runny.
FAQ
Is a banana split healthy?
Traditional banana splits made with ice cream, are usually loaded with sugary toppings such as chocolate, sprinkles, and whipped cream. By swapping out ice cream for healthy Greek yogurt, you are getting a protein-packed breakfast with fresh fruit.
Can I broil the bananas instead of using a kitchen torch?
While broiling will usually give similar results to using a kitchen torch in many recipes, I find the broiler just doesn't consistently perform as well as a butane torch here. Broiling heats the bananas too much and the sugar tends to melt, producing more of a runny caramel rather than a hardened crunch.
Related Recipes
Looking for other recipes like this? Try these:
📖Recipe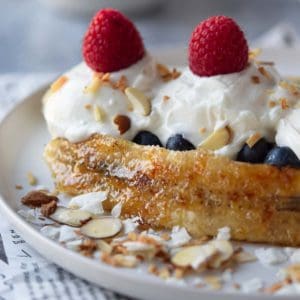 Brûlée Banana Split with Yogurt
Banana splits for breakfast? Yes, please! This super easy brûlée banana split with yogurt is a childhood dream and uses healthy Greek yogurt instead of ice cream. Caramelizing the bananas adds a special fancy crunch.
Ingredients
1

banana

2

tablespoon

granulated sugar

¾

cup

Greek yogurt

any flavor, full or low-fat

granola, fresh fruit, honey, maple syrup, jam, peanut butter, nuts etc. for topping

see post for ideas
Instructions
Slice the banana in half lengthwise. Sprinkle the sugar on one side of each slice.

Using a culinary torch, sweep the flame over the sugar until it starts to bubble and turns a dark golden brown. Let the banana sit for 1-2 minutes to cool.

Assemble the banana split. Grab a small plate or oval bowl. Place the banana slices down, brulee side up. Using an ice cream scoop or spoon, add 1- 3 scoops of yogurt to the top of the bananas. Add desired toppings. Serve immediately.
Nutrition
Serving:
1
banana split with 2% Greek yogurt (no toppings)
Calories:
323
kcal
Carbohydrates:
57.7
g
Protein:
18.5
g
Fat:
3.8
g
Cholesterol:
17
mg
Sodium:
57
mg
Potassium:
663
mg
Fiber:
3.1
g
Sugar:
45.2
g
Calcium:
176
mg
Have you tried this recipe?
Leave a comment below and share a photo on Instagram. Tag @brunchandbatter or hashtag it with #brunchandbatter