Jump to Recipe
Move over tomato, there's a new fruit in town! This Strawberry Balsamic BLT is made with fresh seasonal strawberries, balsamic vinegar, crispy lettuce, savory bacon, and then piled high in between two toasty slices of hearty bread. It's a unique way to showcase all the sweetness of strawberries.
If you're thinking, "No way you're replacing my tomatoes with strawberries", then you should pull up a chair and listen carefully. I am, I did, and you my friends, will love it! The strawberries come alive with a touch of sweet balsamic, and when paired with savory bacon, well that's just heaven in my books.
And I know what you're going to say next, "It's not a BLT Jennifer!". Okay, well you got me there. So feel free to call it a BLS (bacon/lettuce/strawberry). It still won't change the way I feel about using strawberries in everything (like I did with this sweet breakfast bread and this whipped butter).
So color me red- bright red that is- and let's make a deliciously tasty and unique BLT!
Jump to:
What you will need to make a strawberry BLT
There are only a few key ingredients, so make them stand out. That means, splurge on the fancier, thicker bacon, reach for the fresh strawberries, then top it with a hearty bread that can stand up to a good old-fashioned toasting.
Bacon- Opt for thick-cut bacon. I found an "extra thick" thick-cut bacon, and it is perfect for this sandwich.
Lettuce- The crispier the better. Iceberg is a good choice, but it lacks flavor. A fresh crisp romaine or Bibb lettuce will add flavor and texture, and give it the prettiest pop of green.
Strawberries- Fresh, ripe, and on the larger side if you can find them. Smaller strawberries tend to be a little sweeter, but you want them slightly bigger for the sandwich, or the fruit might slide off the bread. You don't need them gargantuan-sized, just a bit larger.
Balsamic vinegar- Use a thick, good balsamic vinegar if you can find it. If you have a balsamic glaze that will work too. You will add the balsamic vinegar to the strawberries and let them marinate for a bit before piling them on the bread.
Mayonnaise- Classic ingredient, choose your favorite brand. Full or low-fat will work.
Pepper- Adding fresh ground pepper to the bacon before cooking adds a little kick and compliments the strawberries as well.
Bread- Use bread that can stand up to syrupy strawberries. Sourdough or whole wheat/grain are good choices.
See recipe card for quantities.
Equipment
All you will need is a baking sheet lined with a cooling rack to make your bacon if you are using the oven method. If you don't have a cooling rack, you can line your baking pan with parchment paper. If you like to fry your bacon, just grab a pan large enough to hold it.
Instructions
This strawberry balsamic BLT is really a breeze to make. Before assembling the sandwich, you will cook your bacon. I use the oven method. It's less messy, and I can cook a big batch in advance. While the bacon is cooking, you will marinate your strawberries in the balsamic vinegar for a bit. Next, grab your toasted bread and get stacking!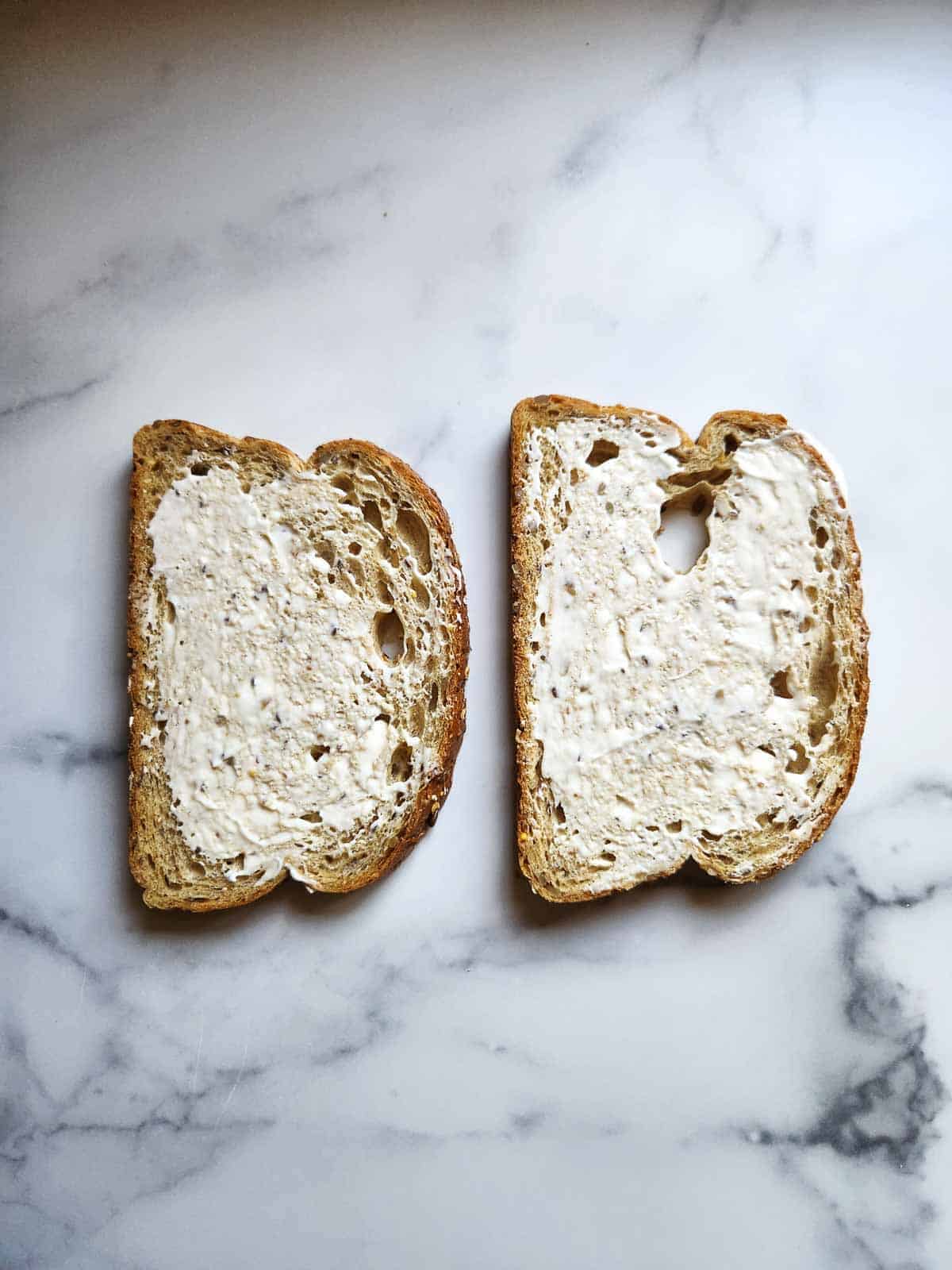 Spread the mayo evenly on one side of the bread.
Add lettuce to one slice of the bread.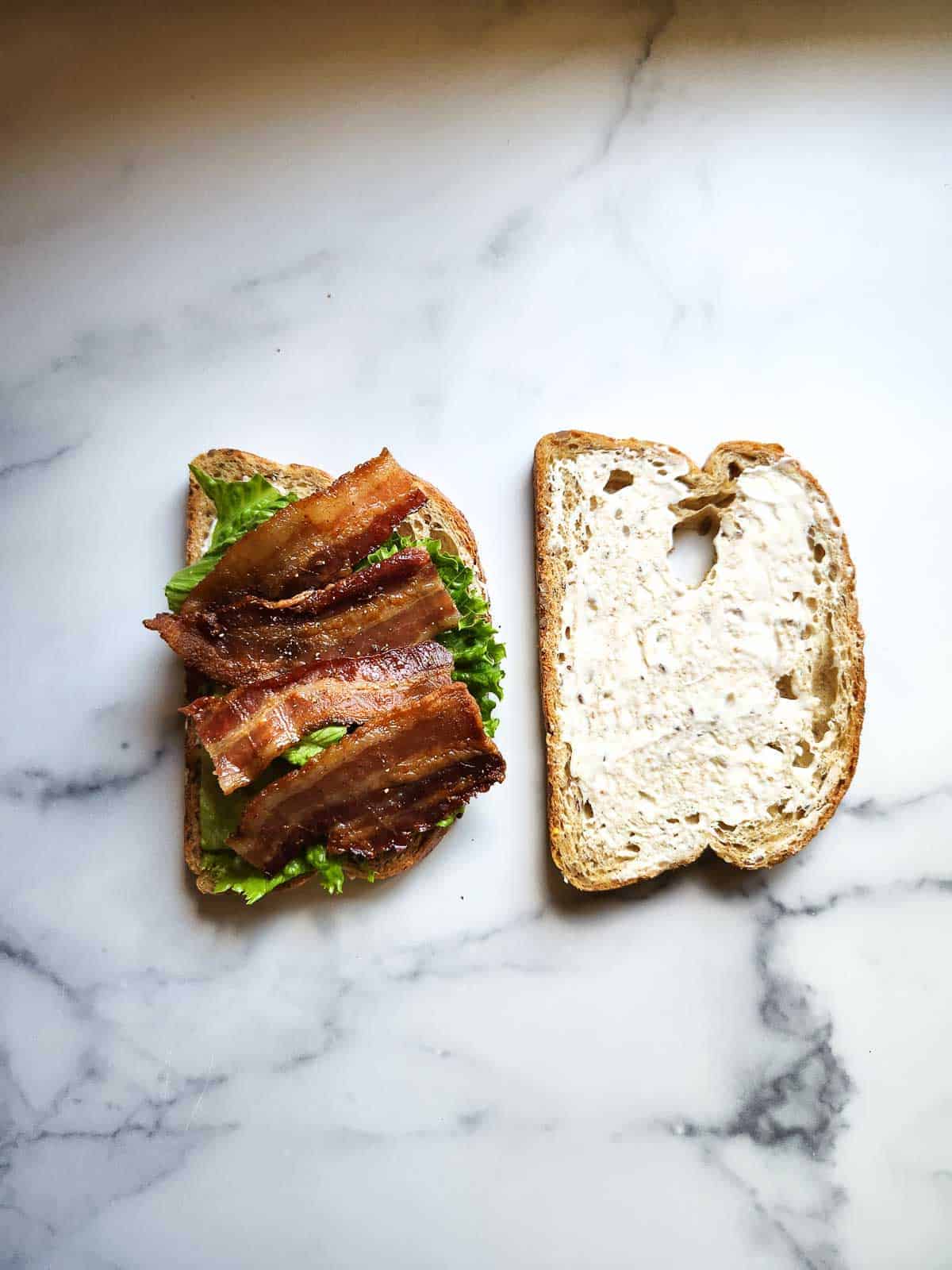 Cover the lettuce with the cooked bacon.
Layer the strawberries over the bacon. Top with another slice of bread.
You can totally change the order of your stack- there are no rules here. I put the strawberries on top because it's the first thing that hits my mouth (aside from the bread) and it's my favorite part!
Variations
I love this strawberry BLT just the way it is, but feel free to change it up. I took the liberty of inventing some new acronyms just to get you started. You're welcome.
BLTS- Don't want to give up your tomato? Make it a bacon, lettuce, tomato and strawberry sandwich.
BLTAS- You know what goes well with everything? Avocado! Add a slice or two for a bacon, lettuce, tomato, avocado, and strawberry sandwich.
BLASB-Add some chopped basil to your strawberry marinade and have yourself a bacon, lettuce, avocado, strawberry, and basil sandwich.
Try swapping out the lettuce for kale or arugula.
Want to make this sandwich extra special? Replace the bacon with my yummy rosemary candied bacon!
Make ahead
Aside from the bacon, this BLT needs to be assembled right before you serve it. You can make the bacon ahead and store it in a covered container in the fridge for up to four days.
Expert tips
Thick-cut bacon adds the best flavor, and gives the sandwich it's signature savory bite. After cooking the bacon, save the bacon grease in a glass container to use in salad dressings, drizzle on popcorn, or use in place of other fats when cooking. Delish!
FAQ
What is the best lettuce for a BLT?
Crisp, leafy greens are best. Romaine, Bibb, or iceberg lettuce are all great choices.
Is there a correct order to stack a BLT?
Maybe- maybe not, definitely up for debate. Some BLT sandwiches start and end with lettuce, and have alternating layers of bacon, while others are one-layer wonders. If you want to keep the bread super toasty, layering the fruit in between the lettuce will prevent your bread from getting soggy.
Related
Looking for other recipes like this? Try these:
📖Recipe
Strawberry Balsamic BLT
Move over tomato, there's a new fruit in town! This Strawberry Balsamic BLT is made with fresh seasonal strawberries, balsamic, crispy lettuce, and savory bacon, and then piled high in between two toasty slices of hearty bread. It's a unique way to showcase all the sweetness of strawberries.
Equipment
baking sheet

cooling rack

aluminum foil or parchment paper
Ingredients
4

slices

thick-cut bacon

½

teaspoon

fresh ground pepper

1

cup

sliced strawberries

1

tablespoon

balsamic vinegar

4

slices

hearty bread

whole grain, whole wheat, sourdough

4-6

crisp lettuce leaves

romaine, Bibb, iceberg

¼

cup

mayonnaise

full or low-fat
Instructions
Preheat the oven to 375℉. Line a baking sheet with aluminum foil. Place a cooling rack over the top. Add the bacon in an even layer, sprinkle with the fresh ground pepper, and cook the bacon for 30-35 minutes, or until browned and beginning to crisp. If you are using regular bacon (not thick-cut), your cooking time will be much less. Remove from the oven and set aside.

4 slices thick-cut bacon,

½ teaspoon fresh ground pepper

Prepare the strawberries: Wash the strawberries and remove the stems. Pat them dry with a paper towel. Slice the strawberries length-wise, about a ¼ inch thick. Don't just slice them in half, you want them mostly to lie flat in the sandwich. Place them in a small bowl, with the balsamic vinegar. Let stand for a few minutes.

1 cup sliced strawberries,

1 tablespoon balsamic vinegar

Prepare your sandwich: Toast the bread. Spread the mayo on each slice of the toasted bread. Top half the bread with 2-3 leaves of lettuce, followed by 2 slices of bacon. Divide the strawberries on top of the bacon. Top with the remaining slices of bread to finish the sandwich. Serve immediately.

4 slices hearty bread,

4-6 crisp lettuce leaves,

¼ cup mayonnaise
Nutrition
Serving:
1
BLT
Calories:
545
kcal
Carbohydrates:
52.9
g
Protein:
22.7
g
Fat:
27.2
g
Saturated Fat:
7
g
Cholesterol:
49
mg
Sodium:
1509
mg
Potassium:
509
mg
Fiber:
3.6
g
Sugar:
8.8
g
Calcium:
56
mg
Iron:
5
mg
Have you tried this recipe?
Leave a comment below and share a photo on Instagram. Tag @brunchandbatter or hashtag it with #brunchandbatter