Jump to Recipe
Rich, creamy, and decadent malted milk hot chocolate is the hot chocolate you didn't know you needed. Malted milk powder is mixed in to add richness and body and takes the chocolate flavor to the next level. This hot chocolate is not for the faint at heart, it's intense, velvety texture is for true chocolate lovers.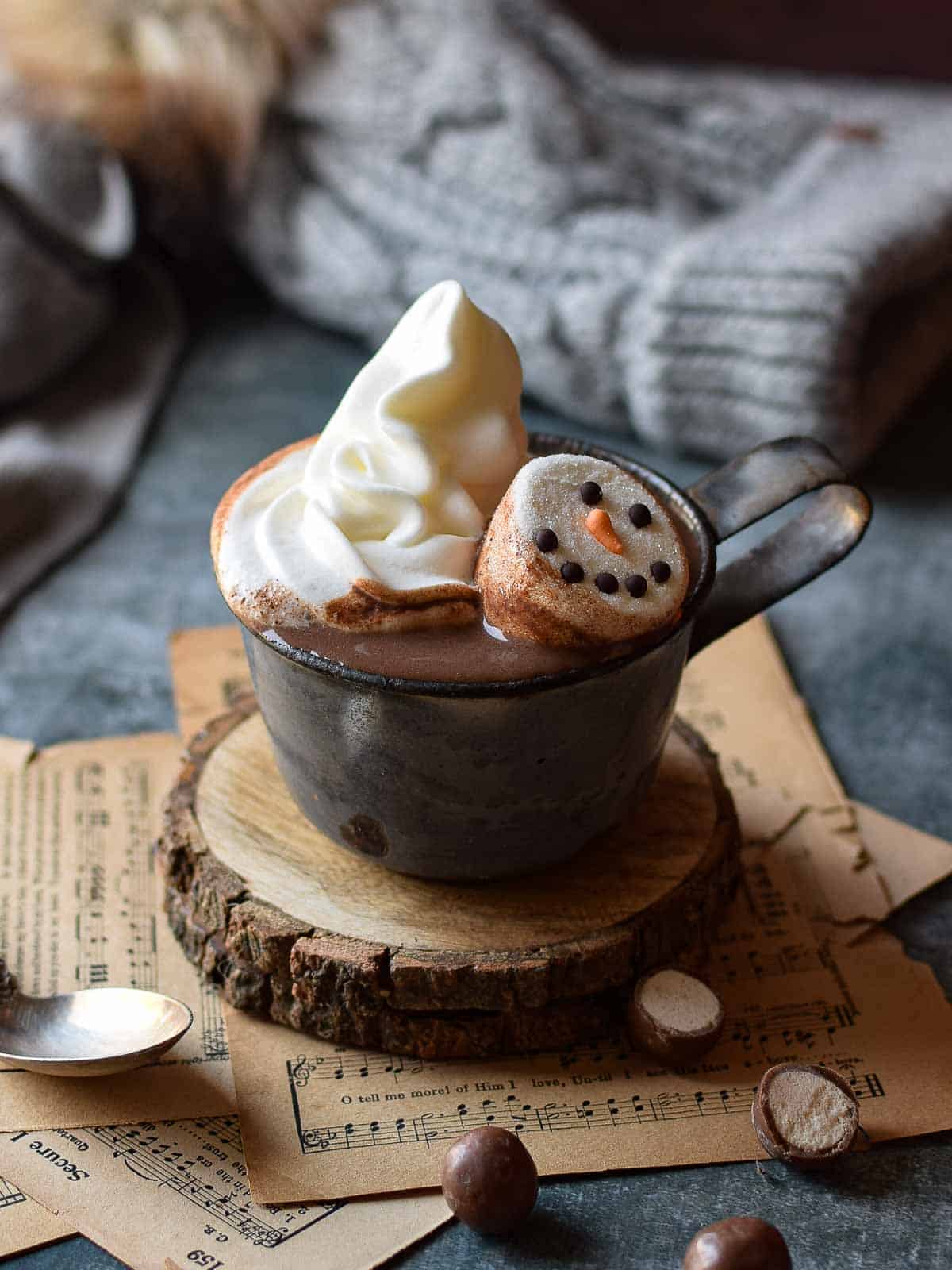 I'm throwing out all my hot chocolate mixes. Yep- I said it. It's a bold statement, but it's so easy to make hot chocolate at home, why would I open a sad packet of questionable ingredients? My milk deserves better!
This malted milk hot chocolate uses just a few ingredients, including real chocolate (instead of cocoa powder), malted milk powder, espresso powder, and milk. It's thick, and creamy and has an intense chocolate flavor that will make you swoon. Yes-swoon.
What is malted milk?
You may have heard of malted milk from the famous movie theater candy- Whoppers, or from the nostalgic "malt" shops that swept the United States in the 1940-1950s.
Invented in the 1800s by brothers William and James Horlick, malted milk powder is made from evaporated milk, wheat flour, and barley. It was used as a nutritional supplement for babies, who didn't have access to fresh foods.
Today the malted milkshakes and malt shops are long gone, but malted milk remains on supermarket shelves and has evolved as a versatile ingredient. When added to baked goods or drinks, it adds body and enhances the flavor.
What you need to make this hot chocolate
Just a few ingredients are needed to transform your next cup of hot chocolate into a cozy mug of happiness.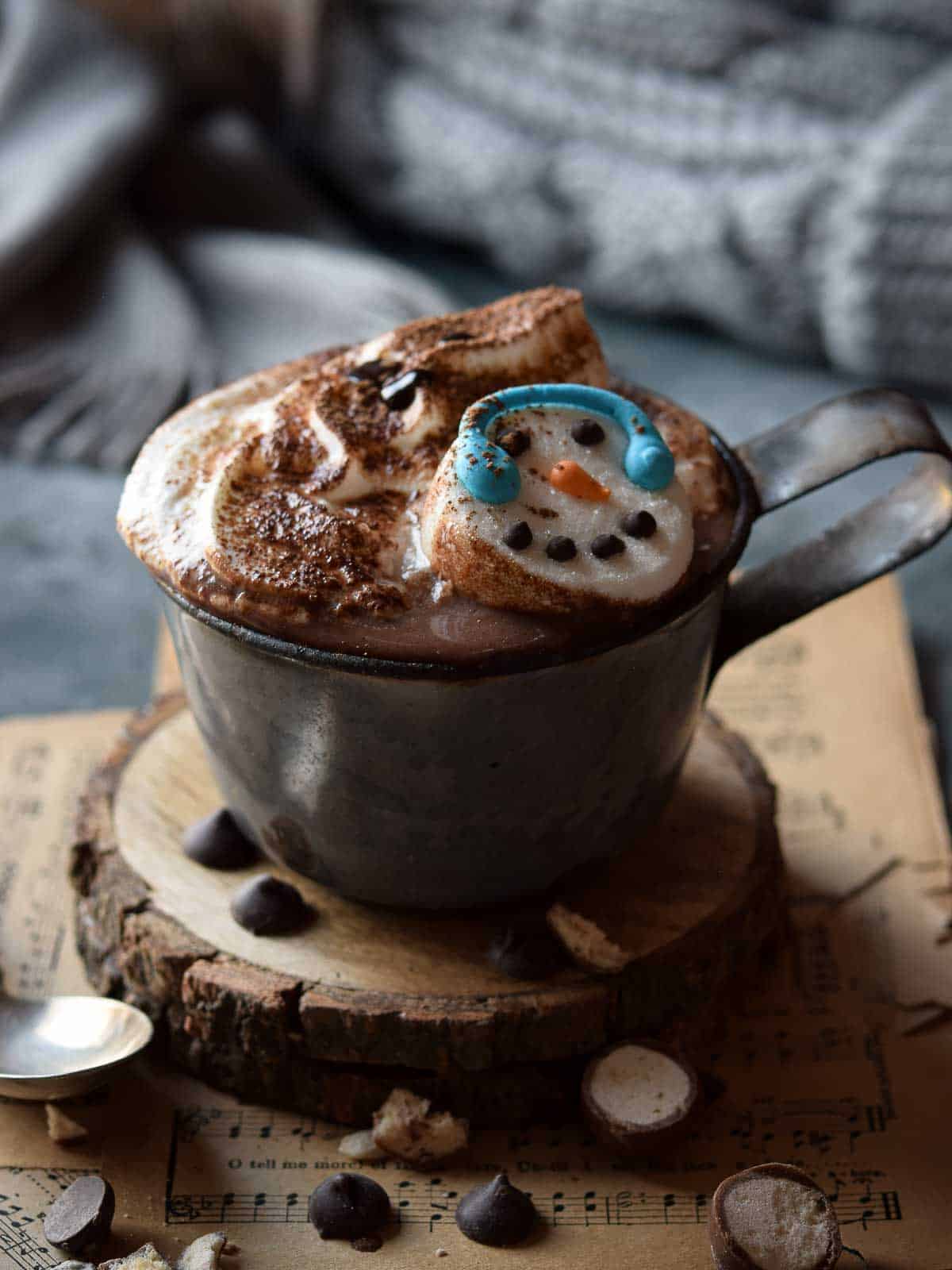 Milk: I used whole milk, but you can use low-fat milk. The more fat in the milk, the richer the hot chocolate will be.
Bittersweet chocolate: Use the best chocolate you can find. Higher-quality chocolate makes a better-tasting hot chocolate. Real chocolate, as opposed to cocoa powder, will yield a velvety smooth drink. Semi-sweet chocolate can be used, but it contains less cocoa and will produce a less intense chocolate flavor. Look for bittersweet baking chips or wafers.
Espresso powder: Another secret ingredient that helps to boost the chocolate flavor. You can find it in specialty shops. I use this one from King Arthur. Instant espresso granules can also be used.
Malted milk powder: I use Carnation Original Malted Milk Powder by Nestle. It comes in 2 flavors, Original and Chocolate. Look for it in the baking aisle, or mixed beverage aisle. You can also find other varieties online. Make sure it says malted milk powder and not malt or malt syrup.
Whipped cream, marshmallows, cocoa powder, or malted milk balls (Whoppers) for topping.
Instructions
Start by combining all the ingredients in a small saucepan over medium-low heat. Whisk all the ingredients continuously until the chocolate is melted and the ingredients are well blended about 3-5 minutes. Serve hot with any desired toppings!
What to serve with hot chocolate
If you want to make your hot chocolate extra special, then you can't go wrong with these toppings. Hat, gloves and scarf are optional😋.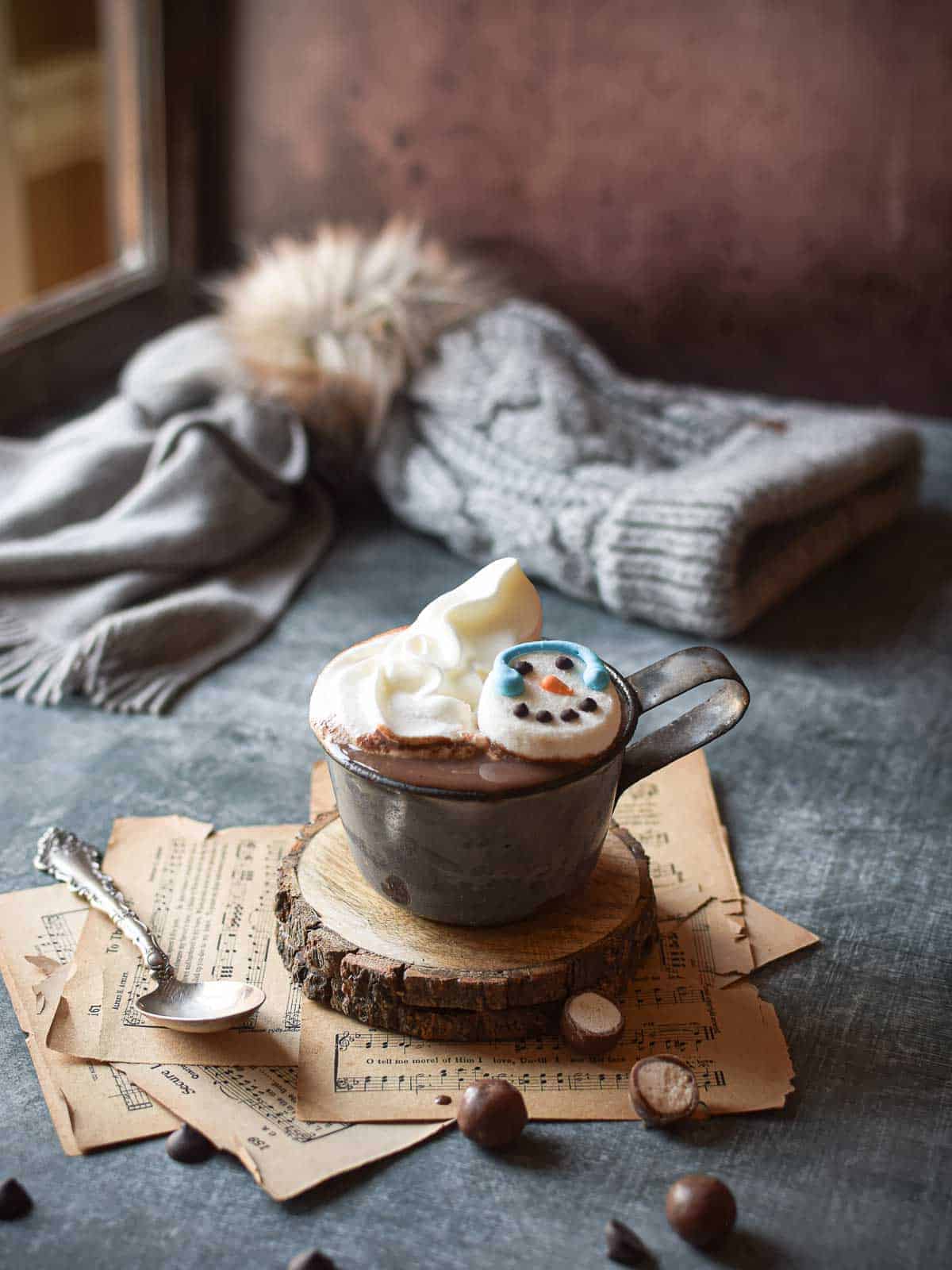 Marshmallows: Who doesn't love a melty marshmallow floating in their hot chocolate? I've also used marshmallow fluff in the past, since I don't keep marshmallows on hand (usually).
Whipped cream: Aside from adding calories, I see nothing wrong with a sky-high whip sitting atop of my chocolate. Just watch your nose when you take that first sip.
Cocoa powder: Ok, now you can dust off that cocoa powder in the pantry. Use a fine mesh sieve to sprinkle some cocoa over the top.
Malted milk ball candy: If you can get your hands on some malted milk chocolate balls (Whoppers), you have to try crushing some and sprinkling them on top. Malty, milky goodness!
Equipment
All you need is a small pot and a whisk to make this hot chocolate. And don't forget to grab your favorite mugs!
Storage
If you can resist not drinking this as soon as you make it, then you can make it in advance and store it in the refrigerator for up to 2 days. When ready to serve, slowly reheat on the stove until hot and blended.
"Jen"tle reminder: When heating the milk, don't allow it to come to a full boil. You want to avoid burning the milk, which will leave a bitter taste. Heat the milk gradually, whisking often.
FAQ
What does malted milk powder taste like?
On it's own, malted milk powder isn't the most enticing ingredient. In fact, it tastes and smells a bit like wheat or barley. But don't let that discourage you, when used in baking, it intensifies the flavor of just about anything.
Is Ovaltine and malted milk powder the same?
While Ovaltine is a type of malted milk mix, it contains other ingredients, and won't produce the same results. For the purest taste, stick to malted milk powder.
📖Recipe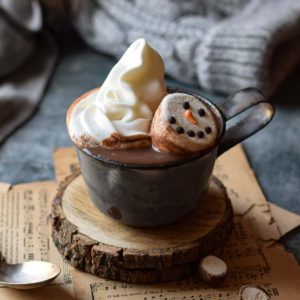 Decadent Malted Milk Hot Chocolate
Rich, creamy, and decadent malted milk hot chocolate is the hot chocolate you didn't know you needed. Malted milk powder is mixed in to add richness and body and takes the chocolate flavor to the next level.
Equipment
small sauce pan and whisk
Ingredients
1

cup

milk

½

cup

diced bittersweet chocolate, or bittersweet chocolate chips

1

teaspoon

espresso powder

or instant espresso granules

4

teaspoon

malted milk powder

see notes in post
Instructions
Combine all the ingredients in a small saucepan over medium-low heat.

Using a whisk, stir until the chocolate is melted, the ingredients are fully blended and bubbles form just at the edges (do not bring to a full boil), about 3-5 minutes.

Serve immediately with your favorite toppings.
Notes
This recipe yields 8 ounces (1 cup) of hot chocolate. Use the serving slides in the recipe card to adjust servings if you are making more than one. 
Nutrition
Serving:
8
ounces
Calories:
600
kcal
Carbohydrates:
61.9
g
Protein:
14.4
g
Fat:
29.9
g
Cholesterol:
40
mg
Sodium:
181
mg
Potassium:
460
mg
Fiber:
2.9
g
Sugar:
58.3
g
Calcium:
452
mg
Iron:
2
mg
Have you tried this recipe?
Leave a comment below and share a photo on Instagram. Tag @brunchandbatter or hashtag it with #brunchandbatter
More Drinks
Looking for other tasty drinks? Try these: