Jump to Recipe
Today I am sharing with you our Christmas morning breakfast tradition- cranberry gingerbread loaf. It's easy to make, doesn't fill you up too much, and is the perfect thing to eat while opening presents on Christmas morning!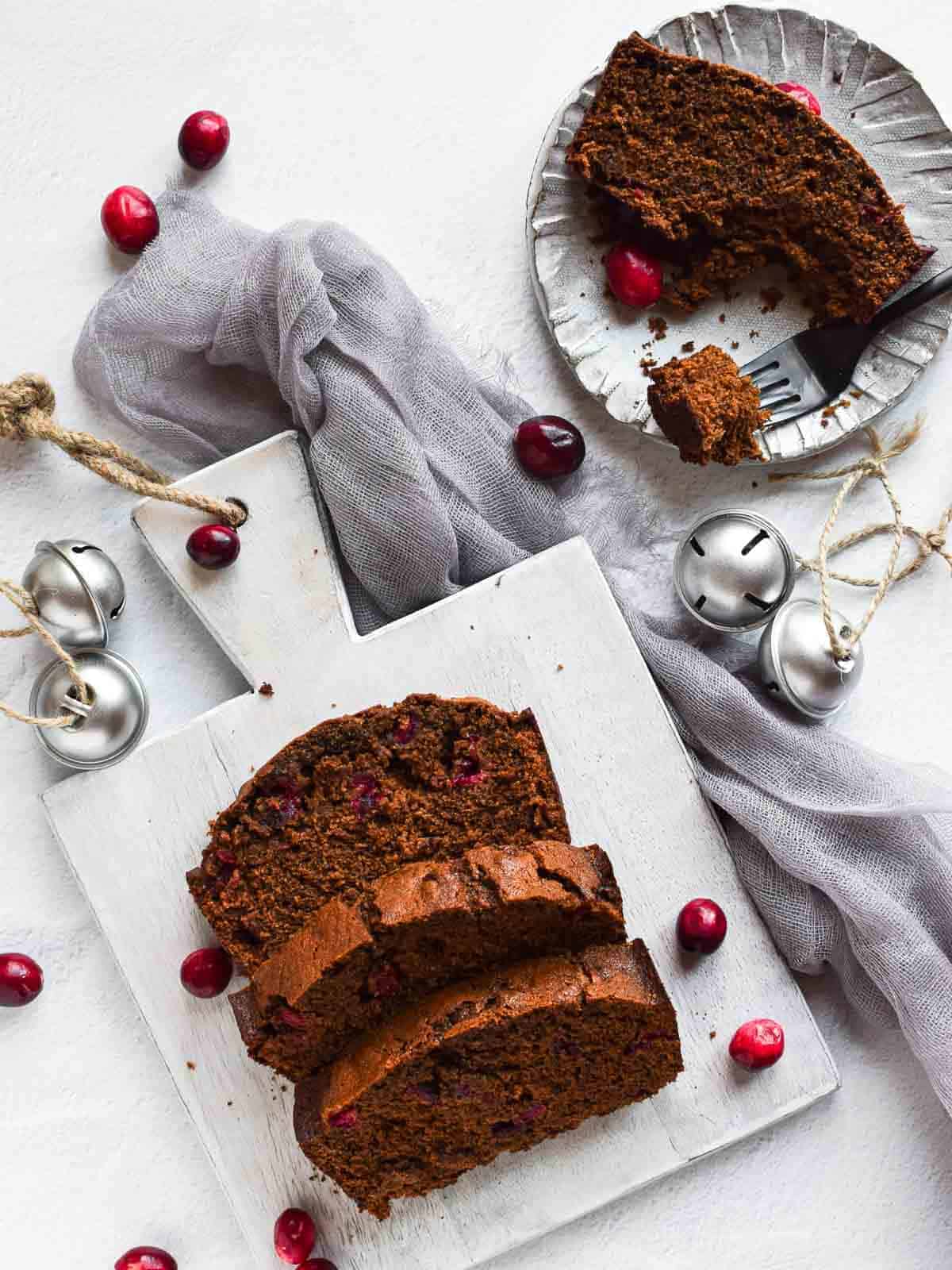 For years my version was on the dry side. I recently discovered that mixing the molasses with hot water helps keep the batter moist and is so much easier to handle. The cranberries add a festive touch and give the loaf a little tartness to balance out the sweetness. I eat it plain, but it would be great with lemon curd, butter, or powdered sugar. Want a sweet treat? Serve it with a scoop of ice cream.
What you will need

:
Flour: All purpose flour for the win!
Spices: What's a gingerbread without the spice? A mix of cinnamon, cloves, ginger (ground and fresh) salt and pepper (yes- black pepper). They really help tie in those Christmas flavors.
Molasses: Unsulphured molasses is common in the grocery store. I have been using Grandma's brand for years and it works wonders. Blackstrap molasses is thick, dark and has a lower sugar concentration than other varieties, so if you have that, go ahead and use it. Adding hot water to the molasses helps to thin it out, makes prepping a breeze, and yields a moister loaf.
Butter: Unsalted butter is my go-to for baking. Make sure to take it out a few hours before you begin your loaf because you really want it soft so that it creams with the sugar. I cheat sometimes and put it over the heat grate for a bit to soften. I don't recommend using a microwave to soften, as I often overshoot the time it takes to soften, and wind up with melted butter instead.
Brown Sugar: Dark brown sugar is my go-to because it adds even more molasses flavor. You can use light brown sugar if that's what you have, it just has less molasses in it.
Eggs: One large egg is all you need.
Vanilla: Only use the real deal, no imitation stuff.
Cranberries: Fresh is best. I would not use dried cranberries, they don't break down enough and melt into the loaf the way fresh ones do. If you keep some frozen as I do, you can take them right out of the freezer, and mix them with hot water before you add the loaf.
📖Recipe
Cranberry Gingerbread Loaf
This breakfast bread is studded with fresh cranberries and a ton of ginger for the perfect Christmas treat. Fancy enough for a holiday brunch. Better yet, have it as a dessert with a scoop of ice cream.
Equipment
9x5 loaf pan

stand mixer or hand held mixer
Ingredients
2

cups

all-purpose flour

1

tsp

baking soda

1½

teaspoon

cinnamon

1

tablespoon

ground ginger

¼

tsp

ground cloves

¼

teaspoon

kosher salt

⅛

teaspoon

ground black pepper

¾

cup

molasses

¾

cup

hot water (not boling)

½

cup

unsalted butter, softened to room temperature

⅓

cup

dark brown sugar

1

large egg

1

teaspoon

pure vanilla extract

1

teaspoon

minced fresh ginger

can use jarred

1

cup

chopped fresh cranberries (soak them in hot water for 10 minutes prior to soften)
Instructions
Preheat the oven to 350 degrees. Grease a 9x5 loaf pan.

In a medium bowl whisk the flour, baking soda, ground ginger, cinnamon, cloves, salt and black pepper.

In another bowl mix the molasses and hot water together. Set aside.

In a stand mixer using the paddle attachment, beat the softened butter on high speed until creamy. Add the brown sugar and beat on high speed until combined with the butter, scraping the sides of the bowl as needed. On medium speed, beat in the egg and vanilla until combined.

Place the mixer on low and add the flour mixture alternating with the molasses mixture until all is combined. Add the minced ginger and cranberries until just combined. Do not overmix.

Pour batter into prepared pan. Bake for about 50-60 minutes or until a toothpick comes out clean. Cool in the pan on a wire rack, then invert and remove the loaf to continue cooling on the wire rack.

Serve warm or at room temperature plain or with powdered sugar, butter or lemon curd. Store at room temperature for up to 5 days (if it lasts that long :).
Have you tried this recipe?
Leave a comment below and share a photo on Instagram. Tag @brunchandbatter or hashtag it with #brunchandbatter