Jump to Recipe
Yep, it's another butter board! The viral sensation that is so easy to make but so worth the hype. This version uses seasonal roasted figs, earthy rosemary, balsamic, and honey and is finished with flaky sea salt and orange zest. Seriously good!
This roasted fig and rosemary butter board makes a great appetizer for entertaining. It's perfect for a Sunday brunch especially served with toasty bread or these savory scones!
Jump to:
What is a Butter Board?
A butter board is simply a board, or dish slathered with room temperature butter, and mixed or topped with any type of flavoring you can imagine, and then scooped onto a bread of your choice. It's essentially bread and butter in reverse. From roasted garlic to sweet flavors like honey or molasses, they are the "new" charcuterie board, but easier to pronounce!
The butter board went viral after Tik Toker @justine_snacks posted a video introducing the butter board for all to see. She credits Joshua McFadden's 2017 cookbook, Six Seasons, in which a butter board was first conceptualized. I knew about this for years, as this is one of my favorite cookbooks of all time, and I can pinch myself for not telling everyone I know sooner!
Ingredients
Here is what you will need:
Fresh figs- These will be roasted until they are soft and caramelized.
Orange liqueur- Used with balsamic vinegar and honey to roast the figs. Orange juice can be used instead if you don't have it on hand. I like to use Grand Marnier.
Balsamic vinegar- Balsamic and figs are a match made in heaven, and when the balsamic mixes with the figs in the oven, it makes the best syrupy sauce.
Honey- For sweetness.
Fresh rosemary- Fresh is best. The earthiness of the rosemary goes so well with figs and butter.
Orange zest- Brightens the dish.
Butter- Make sure it is unsalted and at room temperature. You are about to add a ton of flavor, so you want to be able to control the salt yourself.
Flaky sea salt- I love flaky sea salt such as Maldon's. The flavor hits your tongue and brings the dish together. Kosher salt or regular sea salt works just fine too.
See recipe card for quantities.
Preparing the Butter Board
Once you roast the figs, release your inner artist and arrange the ingredients so they are evenly spread out. Add your toppings and drizzle on that honey, sea salt, and orange zest.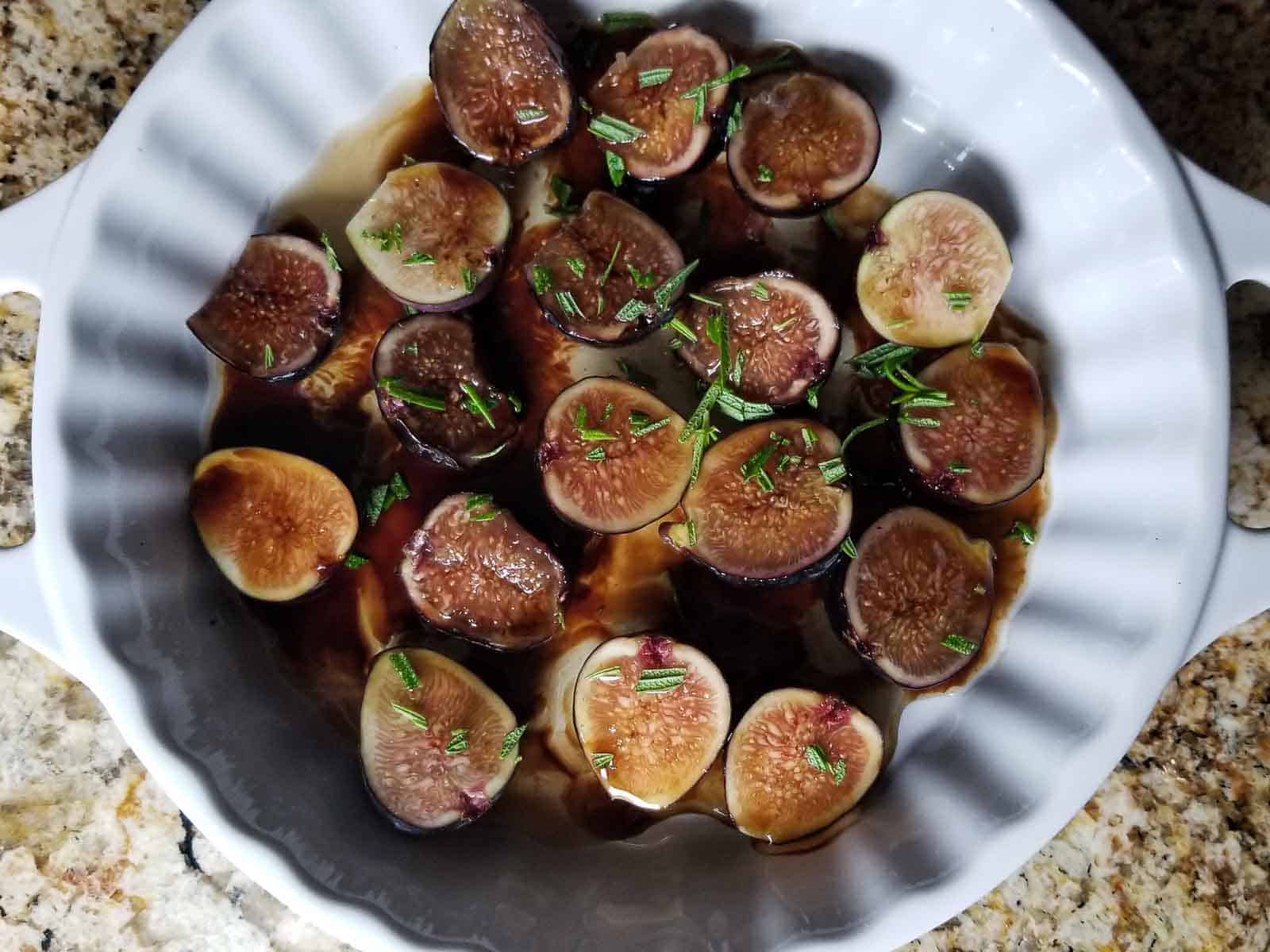 Preheat the oven to 350°F. Cut the figs in half, and place them cut side up in a baking dish. Pour in the orange liqueur, balsamic, and honey and sprinkle with rosemary.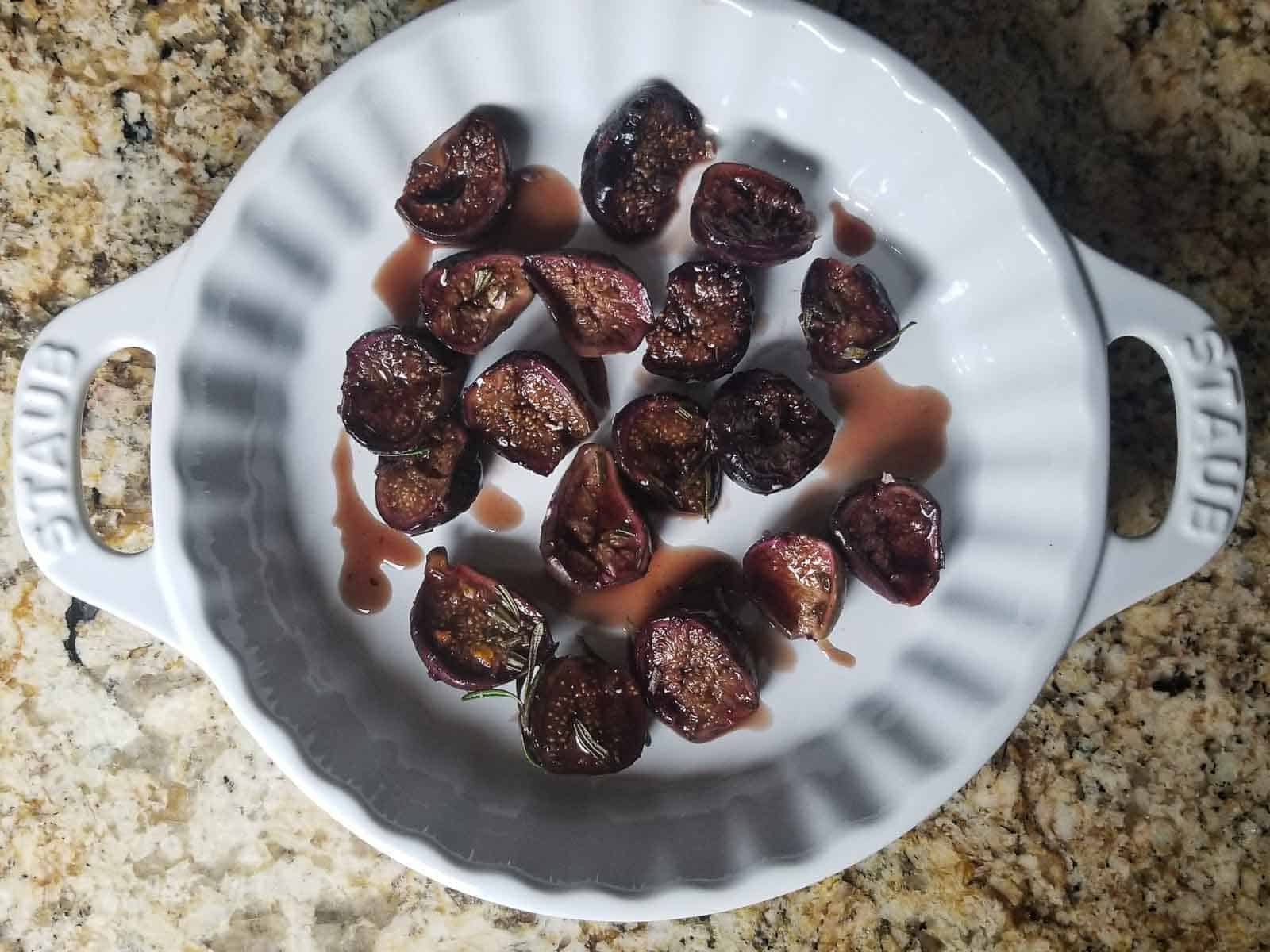 Cover with foil and bake for 15 minutes. Remove the foil and bake another 5 minutes until the figs are soft and the roasting liquid is syrupy. Let cool fully before adding to butter.
Using a spatula, mix the rosemary and butter. Then spread the room temperature butter on your board, dish, or platter of your choice. If you want, create a pretty pattern using your spreader.
Place the roasted figs on top. Drizzle with the fig syrup from the pan or more balsamic. Finish with a drizzle of honey, extra rosemary, freshly grated orange zest, and sea salt.
Serve with crusty bread, crackers, bagels, or whatever your heart desires!
Substitutions
Here are a few ways to mix it up depending on your preferences and diet.
Vegan- To make this vegan, swipe out the regular butter for your favorite vegan butter.
Grapes- Can't find figs? Try roasting grapes instead.
Variations
Butter boards are entirely customizable, so the ingredients used and quantities are just a guide. Feel free to mix it up however you want.
Cheese - Replace the butter with goat, cream, or ricotta cheese. All 3 can be whipped in a food processor for a few seconds to make them more light and spreadable.
Meat - Try adding some salty pancetta or ham.
Make them mini- For those who prefer to be less "communal", serve individual butter boards. Try different size plates if you don't have individual boards.
Equipment
You don't need anything special for this roasted fig and rosemary butter board. Just a pan to roast the figs. For the "board" you can use any food-safe cheese or serving board. A platter, plate, or slate slab will also do the trick.
If you are worried about ruining your board, you can cover it with parchment paper.
Storage
This butter board is meant to be sopped up right away, but if you have an untouched section, you can certainly store it in the fridge for a few days, and slather on some bread, the old-fashioned way!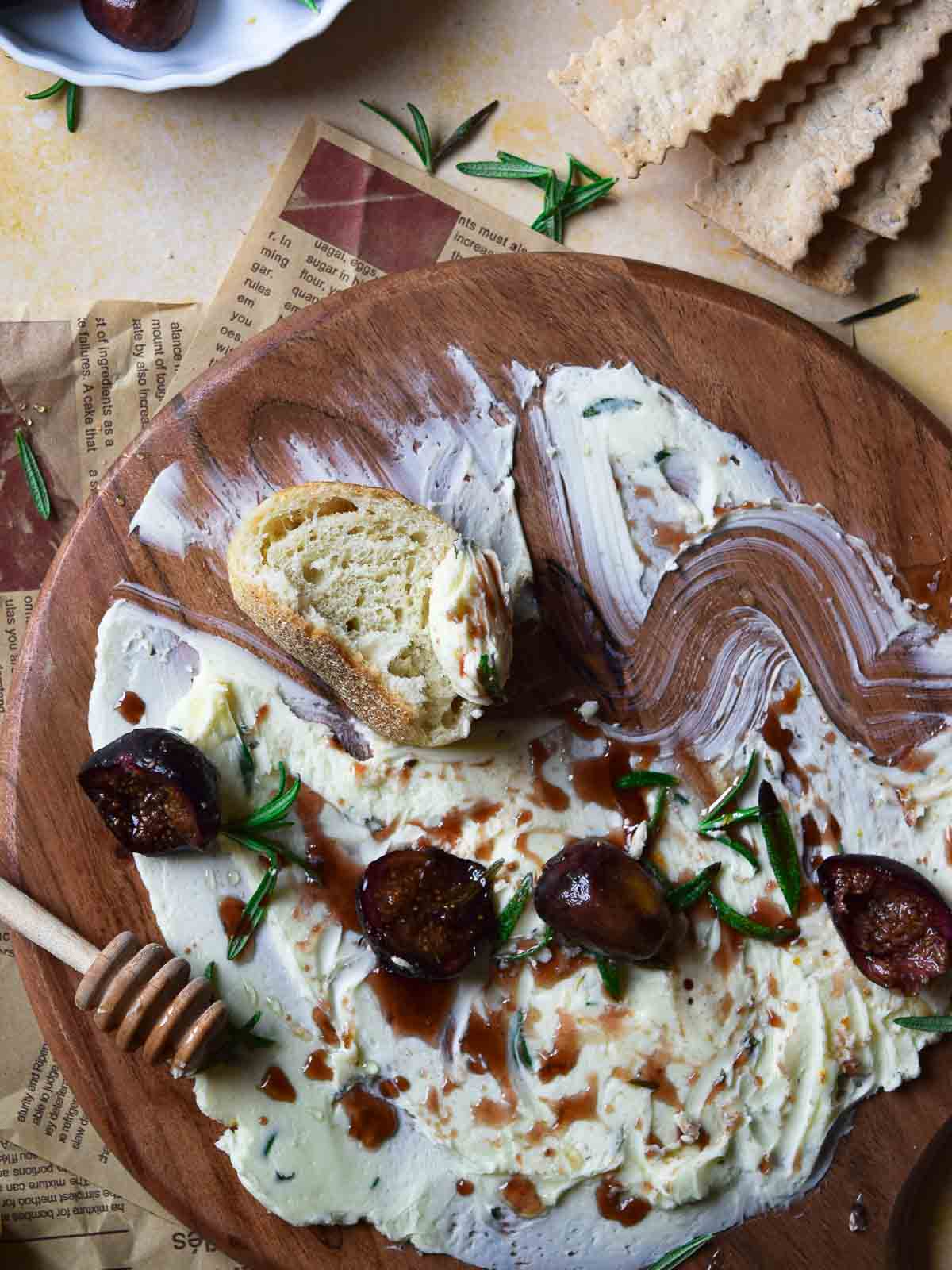 Top Tip
Room-temperature butter is key. Be sure to take it out about an hour before you are ready to assemble the board.
FAQ
How long does it take to soften butter?
Remove the butter from the fridge and let it sit at room temperature for about an hour before serving.
How will I know when my butter is softened?
You will know it is soft enough when you can easily spread it with a knife, or when pressing it in with a spoon, it leaves an indentation but does not lose its shape.
📖Recipe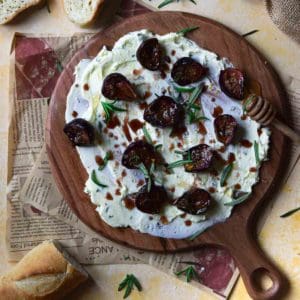 Roasted Fig and Rosemary Butter Board
Butter boards are the new charcuterie, and even easier to throw together. This version uses seasonal roasted figs, earthy rosemary, balsamic, and honey and is finished with flaky sea salt and orange zest.
Equipment
roasting dish

serving board
Ingredients
8

oz

fresh figs

about 9 figs

2

tablespoon

balsamic vinegar

plus more for drizzling

2

tablespoon

orange liqueur

such as Grand Marnier

2

tablespoon

honey

plus more for drizzling

½

cup

unsalted butter, softened

1 stick

2

teaspoon

fresh rosemary, divided

plus more for topping

½

teaspoon

orange zest

flaky sea salt
Instructions
For the Roasted Figs
Preheat the oven to 350°F.

In a baking dish, arrange the figs cut side up.

Add the balsamic vinegar, orange liqueur, and honey to the figs. Cover the dish and roast in the oven for 15 minutes. After 15 minutes, remove the foil, and continue roasting the figs for an additional 5 minutes, or until the figs are soft, but still hold their shape. Remove from the oven and let cool.
Assembling the Board
Mix 1 teaspoon rosemary into the softened butter until evenly distributed.

Using a spreader or spoon, spread the room-temperature butter on top of your board. Arrange in a pretty pattern if you would like.

Arrange the roasted figs on top of the butter. Add the roasting juices from the pan, or additional balsamic vinegar, followed by a drizzle of honey, grated orange zest, rosemary, and flaky sea salt. Serve immediately with bread or crackers.
Have you tried this recipe?
Leave a comment below and share a photo on Instagram. Tag @brunchandbatter or hashtag it with #brunchandbatter